The Louis Armstrong Discography: The Early Years (1901 - 1924)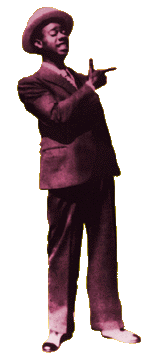 Louis Daniel Armstrong (8/4/1901 - 6/6/1971) was born into a poor family in New Orleans, LA and spent his youth in a rough uptown neighborhood. His father, William Armstrong (1881-1922), abandoned the family when Louis was an infant and only reentered his son's life at sporadic and brief intervals. Louis and his little sister, Beatrice Armstrong Collins (1903-1987), were cared for by his mother, Mary Albert Armstrong (1886-1942), and his grandmother, Josephine Armstrong.
The New Orleans of Armstrong's youth was alive with music and Armstrong grew up hearing the sounds of seminal jazz trumpeters Buddy Bolden, Bunk Johnson and Joe "King" Oliver. Armstrong's first instrument was purchased for him by a Lithuanian-Jewish family, the Karnofskys, for whom he worked collecting junk and selling coal. Armstrong received more structured training in the band of the New Orleans Home for Colored Waifs, where he spent 18 months after firing a pistol into the air on New Year's Eve, 1912. As a teenager, Armstrong played in brass bands in New Orleans, and toured on a Mississippi River steamboat with the band of Fate Marable.
When King Oliver left New Orleans in 1919, Armstrong took Oliver's place in Kid Ory's popular band. In 1922, Armstrong was invited to follow Oliver to Chicago and join Oliver's Creole Jazz Band. Oliver's band was the best and most influential hot jazz band in Chicago in the early 1920s, at a time when Chicago was the center of jazz.
Armstrong made his first recordings while playing second cornet in Oliver's band in 1923. He also began recording in small groups supporting a number of blues singers - a side activity he would continue in throughout the 1920s. Notable singers inclue Ma Rainey, Alberta Hunter and Bessie Smith. Most of these recordings survive, giving an excellent picture of Armstrong's developing talent (although the surviving pressings of these acoustically-recorded sides are often in poor condition). In June of 1924, Armstrong moved to New York to join the band of Fletcher Henderson and recorded frequently with the Henderson band.
Next: The Louis Armstrong Discography: The Hot Fives/Sevens (1925 - 1928)