The Louis Armstrong Discography: The Hot Fives/Sevens (1925 - 1928)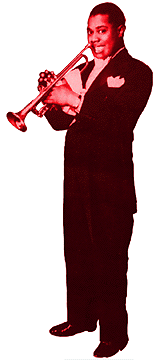 After dazzling New York with a swinging style bred in New Orleans and honed in the jazz hotbed of Chicago, Armstrong was "encouraged" to return to the Windy City by his wife, Lillian, who hustled to keep her husband busy in clubs throughout the city. Immediately, a talented line-up was corralled to create The Hot Five, a combo that -- though it was basically an all-star studio aggregation that only played two small promotional performances -- produced a series of recordings that stand as the Rosetta Stone of jazz.
With Kid Ory on trombone, Johnny Dodds on clarinet, Johnny St. Cyr on banjo, Lil Armstrong herself on piano, and Louis Armstrong fronting on cornet, The Hot Five was a virtual all-star band. With this group, Louis rose to the very pinnacle of the jazz world, gathering universal recognition with his groundbreaking horn solos and steadily gaining strength as a singer.
There is some question about whether Armstrong played cornet or trumpet on many of the Hot Five sessions. The session info given on the JSP box set of Hot Fives/Sevens (remastered by John R.T. Davies with liner notes by Charles Fox) indicates that Armstrong played cornet on the early Hot Five sessions and moved to trumpet in June of 1928 after Lil Armstrong was replaced by Earl Hines. Historian Rainer Blum believes that Armstrong made a largely permanent switch when he joined the Fletcher Henderson band in September 1924 and points to the widely disseminated promo photo of the Hot Five (with Lil Armstrong) where he is clearly holding a trumpet. In contrast, Brian Harker (2011, 96) asserts that Armstrong moved to the more "high-class" instrument when he joined Erskine Tate's high-class orchestra around 1926. Confusing matters further, Chris Tyle notes that Armstrong's Harry B. Jay cornet came equipped with two removable leadpipes - one which would take a cornet mouthpiece, another which would take a trumpet mouthpiece. Since there is no definitive documentation, and it is entirely possible that Armstrong chose different instruments for different situations, this discography defers to the JSP liner notes.
The personnel of the Hot Five fluctuated throughout it's brief existence. The occasional addition of drums made it a Hot Six and a bass made it a Hot Seven. Armstrong also stayed busy recording in similar small groups behind a number of blues singers during this period. Along with the fact that the groups recorded under a number of different names for different labels, deciding what constitutes a legitimate Hot Whatever record can be an abstract endeavor in some situations.
As the 20's reached their closure, Louis and Lil became more distanced; she was finally replaced by the great Earl Hines on piano and there was little reason for Armstrong to remain in Chicago. In 1929, Armstrong returned to New York, this time with his reputation as the world's pre-eminent jazzman secured. As the stock market crashed and the nation careened toward Depression, Louis Armstrong rose to become the ebony champion of the pop music arena.
Next: The Louis Armstrong Discography: Stardom - Louis Armstrong On His Own (1929 - 1932)