Sarah Vaughan Discography: Early Years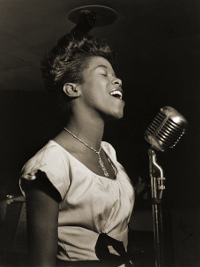 Sarah Lois Vaughan was born on March 27, 1924 in Newark New Jersey. Her father, Asbury "Jake" Vaughan was a carpenter and amateur guitarist. Her mother, Ada, was a laundress. Jake and Ada Vaughan migrated to Newark from Virginia during the first World War. Sarah was their only natural child, although in the 1960s they adopted Donna, the child of a woman who traveled on the road with Sarah Vaughan.
The Vaughans lived in a house on Newark's Brunswick street for Sarah's entire childhood. Jake Vaughan was deeply religious and the family was very active in the New Mount Zion Baptist Church on 186 Thomas Street. Sarah began piano lessons at the age of seven. Vaughan sang in the church choir and occasionally played piano for rehearsals and services.
Vaughan developed an early love for popular music on records and the radio. In the 1930s, Newark had a very active live music scene and Vaughan frequently saw local and touring bands that played in the city at venues like the Montgomery Street Skating Rink, Adams Theatre and Proctor's Theatre. By her mid-teens, Vaughan began venturing (illegally) into Newark's night clubs and performing as a pianist and, occasionally, singer, most notably at the Piccadilly Club and the Newark Airport USO.
Vaughan initially attended Newark's East Side High School, later transferring to Arts High, which had opened in 1931 as the nation's first arts "magnet" high school. However, her nocturnal adventures as a performer began to overwhelm her academic pursuits and Vaughan dropped out of high school during her junior year to concentrate more fully on music. Around this time, Vaughan and her friends also began venturing across the Hudson River into New York City to hear big bands at Harlem's Savoy Ballroom and Apollo Theatre.
Biographies of Vaughan frequently state that she was immediately thrust into stardom after a winning an Amateur Night performance at Harlem's Apollo Theatre. In fact, the story that biographer Leslie Gourse relates seems to be a bit more complex. Vaughan was frequently accompanied by a friend, Doris Robinson, on her trips into New York City. Sometime in the Fall of 1942 (when Sarah was 18 years old), Vaughan suggested that Robinson enter the Apollo Amateur Night contest. Vaughan played piano accompaniment Robinson, who won second prize. Vaughan later decided to go back and compete herself as a singer. Vaughan sang "Body and Soul" and won, although the exact date of her victorious Apollo performance is uncertain. The prize, as Vaughan recalled later to Marian McPartland, was $10 and the promise of a week's engagement at the Apollo. After a considerable delay, Vaughan was contacted by the Apollo in the Spring of 1943 to open for Ella Fitzgerald.
Sometime during her week of performances at the Apollo, Vaughan was introduced to bandleader/pianist Earl Hines, although the exact details of that introduction are disputed. Singer Billy Eckstine, who was with Hines at the time, has been credited by Vaughan and others with hearing her at the Apollo and recommending her to Hines. Hines also claimed to have discovered her himself and offered her a job on the spot. Regardless, after a brief tryout at the Apollo, Hines officially replaced his existing female singer with Vaughan April 4, 1943.
Vaughan spent the last half of 1943 and part of 1944 touring the country with the Earl Hines big band that also featured baritone Billy Eckstine. Vaughan was hired as a pianist, reputedly so Hines could hire her under the jurisdiction of the musicians union (AFM) rather than the singers union (AGVA), but after Cliff Smalls joined the band as a trombonist and pianist, Sarah's duties became limited exclusively to singing. Vaughan presented a visual paradox for audiences as a rail-thin 18-year-old waif with a remarkably mature voice. Up to that point in her life, Vaughan never had much concern for her physical appearance, so Hines and other members of the band had to provide assistance with attire and grooming appropriate for a female band singer. As a tough kid from the streets of Newark, Vaughan had no problem holding her own with her male co-workers and she often spoke very fondly in later years of the friendships built in during her brief time in the Hines band.
This Earl Hines band is best remembered today as an incubator of bop, as it included trumpeter Dizzy Gillespie, saxophonist Charlie Parker (playing tenor rather than the alto that he would become famous with later) and trombonist Benny Green. Gillespie also arranged for the band, although a recording ban by the musicians union prevented the band from recording and preserving its sound and style for posterity.
Billy Eckstine left the Earl Hines band in late 1943 and formed his own big band with Gillespie leaving Hines to become the new band's musical director. Parker came along too, and the Eckstine band over the next few years would host a startling cast of jazz talent: Miles Davis, Kenny Dorham, Art Blakey, Lucky Thompson, Gene Ammons, Dexter Gordon, among others.
Vaughan accepted Eckstine's invitation to join his new band in 1944, giving her an opportunity to develop her musicianship with the seminal figures in this era of jazz. Eckstine's band also afforded her first recording opportunity, a December 5, 1944 date that yielded the song, "I'll Wait and Pray" for the Deluxe label. That date led to critic and producer Leonard Feather to ask her to cut four sides under her own name later that month for the Continental label, backed by a septet that included Dizzy Gillespie and Georgie Auld.
Band pianist John Malachi is credited with giving Vaughan the moniker "Sassy", a nickname that matched her personality. Vaughan liked it and the name (and its shortened variant "Sass") stuck with colleagues and, eventually, the press. In written communications, Vaughan often spelled it "Sassie".
Vaughan officially left the Eckstine band in late 1944 to pursue a solo career, although she remained very close to Eckstine personally and recorded with him frequently throughout her life.
Vaughan began her solo career in 1945 by freelancing in clubs on New York's 52nd street like the Three Deuces, the Famous Door, the Downbeat and the Onyx Club. Vaughan also hung around the Braddock Grill, next door to the Apollo Theatre in Harlem. On May 11, 1945, Vaughan recorded "Lover Man" for the Guild label with a quintet featuring Gillespie and Parker with Al Haig on piano, Curly Russell on bass and Sid Catlett on drums. Later that month she went into the studio with a slightly different and larger Gillespie/Parker aggregation and recorded three more sides.
After being invited by violinist Stuff Smith to record the song "Time and Again" in October, Vaughan was offered a contract to record for the Musicraft label by owner Albert Marx, although she would not begin recording as a leader for Musicraft until May 7, 1946. In the intervening time, Vaughan made a handful of recordings for the Crown and Gotham labels and began performing regularly at Cafe Society Downtown, an integrated club in New York's Sheridan Square.
While at Cafe Society, Vaughan became friends with trumpeter George Treadwell. Treadwell became Vaughan's manager and she ultimately delegated to him most of the musical director responsibilities for her recording sessions, leaving her free to focus almost entirely on singing. Over the next few years, Treadwell also made significant positive changes in Vaughan's stage appearance. Aside from an improved wardrobe and hair style, Vaughan had her teeth capped, eliminating an unsightly gap between her two front teeth.
Many of Vaughan's 1946 Musicraft recordings became quite well-known among jazz aficionados and critics, including "If You Could See Me Now" (written and arranged by Tadd Dameron), "Don't Blame Me", "I've Got a Crush on You", "Everything I Have is Yours" and "Body and Soul." With Vaughan and Treadwell's professional relationship on solid footing, the couple married on September 16, 1946.
Vaughan's recording success for Musicraft continued through 1947 and 1948. Her recording of "Tenderly" became an unexpected pop hit in late 1947. Her December 27, 1947 recording of "It's Magic" (from the Doris Day film Romance on the High Seas) found chart success in early 1948. Her recording of "Nature Boy" from April 8, 1948 became a hit around the same time as the release of the famous Nat King Cole recording of the same song. Because of yet another recording ban by the musicians union, "Nature Boy" was recorded with an A Capella choir as the only accompaniment, adding an ethereal air to a song with a vaguely mystical lyric and melody.
The musicians union ban pushed Musicraft to the brink of bankruptcy and Vaughan used the missed royalty payments as an opportunity to sign with the larger Columbia Record label. Following the settling of the legal issues, her chart successes continued with the charting of "Black Coffee" in the summer of 1949. During her tenure at Columbia through 1953, Vaughan was steered almost exclusively to commercial pop ballads, a number of which had chart success: "That Lucky Old Sun", "Make Believe (You Are Glad When You're Sorry)", "I'm Crazy to Love You", "Our Very Own", "I Love the Guy", "Thinking of You" (with pianist Bud Powell), "I Cried for You", "These Things I Offer You", "Vanity", "I Ran All the Way Home", "Saint or Sinner", "My Tormented Heart", and "Time", among others.
Vaughan also achieved substantial critical acclaim. Vaughan won Esquire magazine's New Star Award for 1947. Vaughan won awards from Down Beat magazine continuously from 1947 through 1952 and from Metronome magazine from 1948 through 1953. A handful of critics disliked her singing as being "over-stylized," reflecting the heated controversies of the time over the new musical trends of the late 40's. However the critical reception to the young singer was generally positive.
Recording and critical success led to numerous performing opportunities, packing clubs around the country almost continuously throughout the years of the late 1940s and early 1950s. In the summer of 1949, Vaughan made her first appearance with a symphony in a benefit for the Philadelphia Orchestra entitled "100 Men and a Girl." Around this time, Chicago disk jockey Dave Garroway coined a second nickname for Vaughan, "The Divine One", that would follow her throughout her career. In 1951, Vaughan made her first tour of Europe.
With improving finances, in 1949 Vaughan and Treadwell purchased a three-story house on 21 Avon Avenue in Newark, occupying the top floor during their increasingly rare off-hours at home and relocating Vaughan's parents to the lower two floors. However, the business pressures and personality conflicts lead to a cooling in the personal relationship between Treadwell and Vaughan. Treadwell hired a road manager to handle Vaughan's touring needs and opened a management office in Manhattan so he could work with clients in addition to Vaughan.