Sarah Vaughan Discography: The 1950s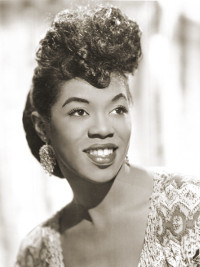 Vaughan's relationship with Columbia Records soured as Vaughan became dissatisfied both with the commercial material she was required to record there and lackluster financial success of her records. A set of small group sides recorded in 1950 with Miles Davis and Benny Green are among the best of her career, but those were isolated moments in her Columbia ouvre. Frank Sinatra would face similar issues at the conclusion of his Columbia contract around the same time. As with Sinatra, Vaughan needed a change of setting that would give her talents the environment to fully blossom.
In 1953, George Treadwell negotiated a unique contract for her with Mercury Records. Vaughan would record commercial material for the Mercury label and more jazz-oriented material for Mercury's subsidiary EmArcy label. Vaughan was paired with producer Bob Shad and their excellent working relationship resulted in strong commercial and artistic success. Vaughan's first recording session for Mercury was in February of 1954 and she stayed with the label through 1959. After a stint at Roulette Records from 1960 to 1963, Vaughan returned to Mercury for an additional time from 1964 to 1967.
Vaughan's commercial success at Mercury began with "Make Yourself Comfortable", recorded in the Fall of 1954. Other hits followed, including: "How Important Can It Be" (with Count Basie), "Whatever Lola Wants", "The Banana Boat Song", "You Ought to Have A Wife". Vaughan's commercial success peaked with "Broken Hearted Melody", a song she considered "corny", that nonetheless became her first gold record and a regular part of her concert repertoire for years to come. Vaughan was reunited with Billy Eckstine for a series of duet recordings in 1957 that yielded the hit "Passing Strangers". Vaughan's commercial recordings were handled by a number of different arrangers and conductors, the primary leaders being Hugo Peretti and Hal Mooney.
Meanwhile, the jazz "track" of her recording career also proceeded apace, backed either by her working trio or various assemblages of illustrious jazz figures. One of her favorite albums of her whole career was an album recorded in December of 1954 featuring a sextet that included Clifford Brown. The album The Land of Hi-Fi was recorded at pair of October 1955 sessions featured a 12-piece band that was lead by Ernie Wilkins and included JJ Johnson, Kai Winding, and Cannonball Adderley augmenting Sarah's working trio. In 1958 Vaughan recorded the No 'Count Sarah album with members of the Count Basie Orchestra, minus Basie, who was under contract with another record company.
Performances from this era often found Vaughan in the company of a veritable who's who of jazz figures from the mid-1950s during a schedule of almost non-stop touring. Vaughan was featured at the first Newport Jazz Festival in the Summer of 1954 and would star in subsequent editions of that festival at Newport and in New York City for the remainder of her life. In the Fall of 1954, Vaughan performed at Carnegie Hall with the Count Basie Orchestra on a bill that also included Billie Holiday, Charlie Parker, Lester Young and the Modern Jazz Quartet. That Fall, Vaughan took another brief and highly successful tour of Europe. In early 1955, Vaughan set out on a "Big Show" tour, a grueling succession of start-studded one-nighters that included Count Basie, George Shearing, Errol Garner and Jimmy Rushing. In the 1955 New York Jazz Festival on Randalls Island, Vaughan shared the bill with the Dave Brubeck quartet, Horace Silver, Jimmy Smith, the Johnny Richards Orchestra.
Although the professional relationship between Vaughan and Treadwell was quite successful through the 1950s, their personal relationship finally reached a breaking point at some time in 1958 and Vaughan filed for a divorce. Vaughan had entirely delegated financial matters to Treadwell, and despite stunning figures reported through the 1950s about Vaughan's record sales and performance income, at the settlement Treadwell said that only $16,000 was left. The couple evenly divided that amount and the personal assets and terminated their business relationship. Despite his questionable business practices, Treadwell had excellent taste and gave Vaughan the ability to just be herself. Treadwell's 12 years of management would ultimately prove to be the most focused of Vaughan's career and she would never have management that strong again.