Sarah Vaughan Discography: The 1970s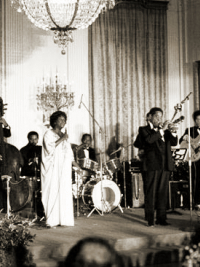 Vaughan met Marshall Fisher after a 1970 performance at a casino in Las Vegas and Fisher soon fell in to the familiar dual role as Vaughan's lover and manager. Fisher was another man of uncertain background with no musical or entertainment business experience. However, unlike some of Vaughan's earlier associates, he was a genuine fan of Vaughan's and was devoted to furthering Vaughan's career.
The seventies also heralded a rebirth in Vaughan's recording activity. In 1971, Bob Shad, who had worked as a producer with Vaughan during her contract with Mercury Records, asked Vaughan to record for his new record label, Mainstream Records. Basie veteran Ernie Wilkins arranged and conducted her first Mainstream album, A Time In My Life in November of 1971. In April of 1972, Vaughan recorded a lovely collection of ballads written, arranged and conducted by Michel Legrand. Arrangers Legrand, Peter Matz, Jack Elliott and Allyn Ferguson teamed up for Vaughan's third Mainstream album, Feelin' Good. Vaughan also recorded a live album in Tokyo with her trio in September of 1973.
During her sessions with Legrand, Bob Shad presented "Send In The Clowns", a Stephen Sondheim song from the Broadway musical A Little Night Music, to Vaughan for consideration. The song would become Vaughan's signature, replacing the chestnut "Tenderly" that had been with her from the beginning of her solo career.
Unfortunately, Vaughan's relationship with Mainstream soured in 1974, allegedly in a conflict precipitated by Fisher over an album cover photograph and/or unpaid royalties. This left Vaughan again without a recording contract for three years.
In December 1974, Vaughan played private concert for U.S. president Gerald Ford and French president Giscard d'Estaing during their summit on Martinique.
Also in 1974, conductor Michael Tilson Thomas asked Vaughan to participate in an all-Gershwin show he was planning for a guest appearance with the Los Angeles Philharmonic at the Hollywood Bowl. The arrangements were by Marty Paich and the orchestra would be augmented by established jazz artists Dave Grusin on piano, Ray Brown on bass, drummer Shelly Manne and saxophonists Bill Perkins and Pete Christlieb. The concert was a success and Thomas and Vaughan repeated the performance with Thomas' home orchestra in Buffalo, NY, followed by appearances in 1975 and 1976 with symphonies around the country. These performances fulfilled a long-held interest by Vaughan in working with symphonies and she made orchestra performances without Thomas for the remainder of the decade.
In 1977, Vaughan terminated her personal and professional relationship with Marshall Fisher. Although Fisher is occasionally referenced as Vaughan's third husband, they were never legally married. Vaughan began a relationship with Waymond Reed, a trumpet player 16 years her junior who was playing with the Count Basie band. Reed joined her working trio as a musical director and trumpet player and became Vaughan's third husband in 1978.
In the Summer of 1977, Tom Guy, a young filmmaker and public TV producer, followed Vaughan around on tour, interviewing numerous artists speaking about Vaughan and capturing both concert and behind-the-scenes footage. The resulting sixteen hours of footage was pared down into an hour-and-a-half documentary, Listen To The Sun, that aired on September 21, 1978 on New Jersey Public Television. As of this writing, the film has not been commercially released.
Finally in 1977, Norman Granz, who was also Ella Fitzgerald's manager, signed Vaughan to his Pablo record label. Vaughan had not had a recording contract for three years, although she recorded a 1977 album of Beatles songs with contemporary pop arrangements for the Atlantic record label that was eventually released in 1981. Vaughan's first release for Pablo was I Love Brazil, which was recorded with an all-star cast of Brazilian musicians in Rio de Janeiro in the fall of 1977 and led to a Grammy nomination.
The Pablo contract would ultimately result in five albums. In the Spring of 1978, Vaughan recorded How Long Has This Been Going On? with a quartet that included pianist Oscar Peterson, guitarist Joe Pass, bassist Ray Brown, and drummer Louis Bellson. In the fall of 1979, Vaughan recorded material for two Duke Ellington Songbook albums.