Sarah Vaughan Discography: The 1980s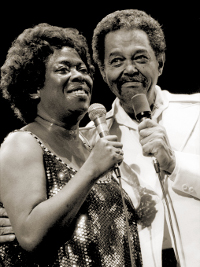 In the Spring of 1981, Vaughan recorded the album Send In The Clowns with the Count Basie orchestra playing arrangements primarily by Sammy Nestico and including a second recording of what had become her signature song. Vaughan and Waymond Reed divorced in 1981.
Vaughan's Pablo contract concluded in March of 1982 with Crazy and Mixed Up, another quartet album featuring Sir Roland Hanna on piano, Joe Pass on guitar, Andy Simpkins on bass and Harold Jones on drums.
Vaughan remained quite active as a performer during the 1980s and began receiving awards recognizing her contribution to American music and status as an important elder stateswoman of Jazz. In the Summer of 1980, Vaughan received a plaque on 52nd street outside the CBS building commemorating the jazz clubs she had once frequented on "Swing Street" and which had long since been demolished and replaced with office buildings. A performance of her symphonic Gershwin program with the New Jersey Symphony in the Fall of 1980 was broadcast on PBS and won her an Emmy Award in 1981 for "Individual Achievement - Special Class". She was reunited with Michael Tilson Thomas for slightly modified version of the Gershwin program with the Los Angeles Philharmonic and the CBS Records recording, Gershwin Live won Vaughan a Grammy award. In 1985 Vaughan received a star on the Hollywood Walk of Fame. In 1988 Vaughan was inducted into American Jazz Hall of Fame.
After the conclusion of her Pablo contract in 1982, Vaughan did only a limited amount studio recording, primarily as guest appearances on the albums of others. Vaughan's final complete album was 1987's Brazilian Romance, produced and composed by Sergio Mendez.
Vaughan is featured in a number of video recordings from the 1980s. Sarah Vaughan Live from Monterrey was taped in 1984 or 1983 and featured her working trio with guest soloists. Sass and Brass was taped in 1986 in New Orleans and also features her working trio with guest soloists, including Dizzy Gillespie and Maynard Ferguson. Sarah Vaughan: The Divine One was featured in the American Masters series on PBS.
In 1989, Vaughan's health began to decline, although she rarely betrayed any hints in her performances. Vaughan canceled a series of engagements in Europe for the Fall of 1989 citing the need to seek treatment for arthritis in the hand, although she was able to complete a later series of performances in Japan. During a run at New York's Blue Note jazz club in the Fall of 1989, Vaughan received a diagnosis of lung cancer and was too ill to finish the final day of what would turn out to be her final series of public performances.
Vaughan returned to her home in California to begin chemotherapy and spent her final months alternating stays in the hospital and at home. Toward the end, Vaughan tired of the struggle and demanded to be taken home, where she passed away on the evening of April 4, 1990 while watching a television movie featuring her adopted daughter.
Vaughan's funeral was at the First Mount Zion Baptist Church in Newark, NJ, which was the same congregation she grew up in but which had relocated to a new building. Following the ceremony, a horse-drawn carriage transported her body to it's final resting place in Glendale Cemetery in Bloomfield, NJ.
Sarah Vaughan's personal life was a jumble of paradoxes. She had a mercurial personality and could be extremely difficult to work with (especially in areas outside of music), but numerous fellow musicians recounted their experiences with her to be some of the best of their career. None of her marriages were successful, yet she maintained close long-running friendships with a number of male colleagues in the business and was devoted to her parents and adopted daughter. Despite effusive public acclaim, Vaughan was insecure and suffered from stage fright that was, at times, almost incapacitating. While shy and often aloof with strangers, she was quite gregarious and generous with friends.
Vaughan's appetite for night life was legendary and after performances she regularly stayed out partying until well into the next day. Vaughan was a heavy drinker and but there are no reported incidents of obvious on-stage intoxication that hampered her ability to perform. Vaughan was, reputedly, a regular marijuana and cocaine user throughout her career, but she was apparently discreet about her usage and never suffered the debilitating addictions or run-ins with the law that derailed many of her colleagues. Vaughan was also a life-long smoker, which almost certainly contributed to her slightly premature death from lung cancer at the age of 64. But her tobacco usage did not have a deleterious effect on her voice and may have even contributed to the attractive darkness that was characteristic of her sound in her later years.
Sarah Vaughan
16 and 18 February 1981: Hollywood, CA
Album for Pablo with Basie's orchestra minus the leader
I Gotta Right to Sing the Blues (arr. Sammy Nestico)
Just Friends (arr. Sammy Nestico)
If You Could See Me Now (arr. Allyn Ferguson)
Ill Wind (arr. Sammy Nestico)
When Your Lover Has Gone (arr. Sammy Nestico)
Send in the Clowns (arr. Sammy Nestico)
I Hadn't Anyone Till You (arr. Sammy Nestico)
All the Things You Are (arr. Allyn Ferguson)
Indian Summer (arr. Sammy Nestico)
From This Moment On (arr. Sammy Nestico)
Personnel
Sharkey's Machine (soundtrack) (film)
1981?: Los Angeles, CA
A couple of cuts film soundtrack on Warner Brothers Records
Sarah Vaughan
1-2 March 1982: Hollywood, California
Sessions for Vaughan's final Pablo album Crazy and Mixed Up
I Didn't Know What Time It Was
That's All
Autumn Leaves
Love Dance
The Island
Seasons
In Love in Vain
You Are Too Beautiful
Personnel
Sarah Vaughan
1982: Los Angeles, CA
Released as the Grammy-winning Gershwin Live! album on CBS Records
Overture: Porgy and Bess
Medley: Summertime / It Ain't Necessarily So / I Loves You, Porgy
Medley: But Not for Me / Love Is Here to Stay / Embraceable You
Someone to Watch Over Me
Sweet and Low Down
Fascinating Rhythm
Do It Again
My Man's Gone Now
The Man I Love
Medley: Nice Work If You Can Get It / They Can't Take That Away from Me / 'S Wonderful / Sewanee / Strike Up the Band
Encore: I've Got a Crush on You/A Foggy Day
Personnel
Barry Manilow
1984: Los Angeles
Guest duet with Barry Manilow on his Arista Records album 2 AM Paradise Cafe, an odd album of original pastiche compositions that featured a number of established jazz artists.
Personnel
Gene Lees
30 June 1984: Dusseldorf, West Germany
Perhaps the most unusual project of Vaughan's career. The Planet is Alive, Let It Live was a symphonic piece composed by Tito Fontana and Sante Palumbo on Italian translations of Polish poems by Karol Wytola, the future Pope John Paul II. The poems were translated into English by writer Gene Lees and released by Lees on his own private Jazzletter label after the recording was turned down by major labels.
Personnel
South Pacific
27-31 January 1986: London, England
Vaughan sings the role of Bloody Mary on an otherwise stiff studio recording by opera stars Kiri Te Kanawa and Jose Carreras of the score of the Broadway musical South Pacific for CBS Records.
Personnel
Sarah Vaughan
January - February 1987: New York City / Detroit, Michigan
Vaughan's final album, Brazilian Romance for CBS Records. Exact recording location uncertain.
Make This City Ours Tonight (Dori Caymmi)
Romance (Dori Caymmi)
Love and Passion (Dori Caymmi)
So Many Stars (Dori Caymmi)
Photograph (Dori Caymmi)
Nothing Will Be as It Was (Dori Caymmi)
Obsession (Dori Caymmi)
Wanting More (Dori Caymmi)
Your Smile (Dori Caymmi)
Personnel
Sarah Vaughan
Summer 1988
Appearance by Vaughan on a Christmas carol collection sold in Hallmark Card stores.
Personnel
Quincy Jones
Los Angeles, CA
Quincy Jones' album Back on the Block for Quest Records featured Vaughan in a brief scatting duet with Ella Fitzgerald. This was Vaughan's final studio recording and, fittingly, it was Vaughan's only formal studio recording with Fitzgerald in a career that had begun 46 years earlier opening for Fitzgerald at the Apollo.
Wee B. Dooinit
Jazz Corner of the World
Birdland