Sarah Vaughan Discography: The 1960s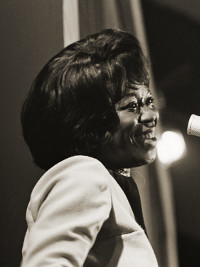 The exit of manager/husband George Treadwell from Vaughan's life was also precipitated by the entry of Clyde "C.B." Atkins, a man of uncertain background that Vaughan met while while on tour in Chicago and married on September 4, 1958. Although Atkins had no experience in artist management or music, Vaughan wished to have a mixed professional/personal relationship like the one she had with Treadwell. Vaughan made Atkins her personal manager, although, she was still feeling the sting of the problems she had with Treadwell and initially kept a slightly closer eye on Atkins. Vaughan and Atkins moved into a house in Englewood Cliffs, New Jersey.
Vaughan's contract with Mercury Records ended in late 1959 and she immediately signed on with Roulette Records, a small label owned by Morris Levy, one of the backers of the Birdland jazz club in New York where Vaughan had frequently appeared. Roulette's roster also included Count Basie, Joe Williams, Dinah Washington, Lambert Hendricks and Ross, and Maynard Ferguson, among others.
Vaughan began recording for Roulette in April of 1960, making a string of strong large ensemble albums arranged and/or conducted by Billy May, Jimmy Jones, Joe Reisman, Quincy Jones, Benny Carter, Lalo Schifrin, and Gerald Wilson. Surprisingly, Vaughan also had some success in 1960 on the pop charts with "Serenata" on Roulette and a couple of residual tracks from her Mercury contract, "Eternally" and "You're My Baby". Vaughan made a pair of intimate trio albums of jazz standards: After Hours in 1961 with guitarist Mundell Lowe and bassist George Duvivier and Sarah Plus Two in 1962 with guitarist Barney Kessell and bassist Joe Comfort.
Vaughan was incapable of having biological children, so in 1961 Vaughan and Atkins adopted a daughter, Debra Lois. However the relationship with Atkins was difficult and violent and Vaughan filed for divorce in November of 1963 after a series of strange incidents. Vaughan turned to two friends to help sort out the financial wreckage of the marriage: John "Preacher" Wells, a childhood acquaintance and club owner, and Clyde "Pumpkin" Golden, Jr. Wells and Golden found that Atkins' gambling and profligate spending had put Vaughan around $150,000 in debt and the Englewood Cliffs house was ultimately seized by the IRS for nonpayment of taxes. Vaughan retained custody of the adopted child and Golden essentially took Atkins place as Vaughan's manager and lover for the remainder of the decade.
Around the time of her second divorce, she also became disenchanted with Roulette Records. Roulette' finances were even more creative and opaque than usual in the record business, and its recording artists often had little to show for their efforts other than some excellent records. When her contract with Roulette ended in 1963, Vaughan returned to the more familiar confines of Mercury Records. In the summer of 1963, Vaughan went to Denmark with producer Quincy Jones to record four days of live performances with her trio that would be released on the album Sassy Swings the Tivoli that is an excellent example of Vaughan's live show from this period. Vaughan made her first appearance at the White House for President Johnson in 1964.
Unfortunately, the Tivoli recording would be the brightest moment of her second stint with Mercury. Changing demographics and tastes in the 1960s left older performers like Vaughan with shrinking audiences and inappropriate material. While Vaughan retained a following large and loyal enough to maintain her performing career, the quality and quantity of her recorded output dwindled even as her voice darkened and her skill remained undiminished. At the conclusion of her Mercury deal in 1967 she was left without a recording contract for the remainder of the decade.
In 1969 Vaughan terminated her professional relationship with Golden and relocated to the West Coast, settling first into a house near Benedict Canyon in Los Angeles and then into what would end up being her final home in Hidden Hills.