The Louis Armstrong Discography: Twilight (1963 - 1971)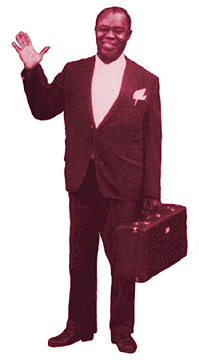 The sixties saw the biggest cultural upheaval in the Western World since, well, the twenties. Once again, an old line of performers was washed aside by an unrelenting flood of fresh artists and their young fans. But this time, Louis Armstrong was the old line.
The decade that started off with a fine pairing with Duke Ellington, and kept rolling with a lively and inventive concept-album tribute by Dave Brubeck. But before long, Louis' recorded career sank into a morass of mediocre MOR, swept aside by the infectious energy of rock and roll. Late-decade attempts at a revival with a Disney collection and an ill-advised modern pop album did nothing to boost this falling-out; yet, true to form, his own enthusiasm never sagged.
Ironically, as his recorded output reached its nadir, Satch's popularity soared to its all-time peak. Spurred by the unexpected worldwide success of "Hello Dolly" (a song he had forgotten even recording!), he was suddenly in demand for every television venue available. A new generation of music buyers was handed a hearty introduction to the King of Jazz, though for many it was a long time before they could hope to grasp his importance. His last big hit, "What a Wonderful World", didn't really leave its mark until its inclusion in the film Good Morning, Vietnam, 16 years after he had passed away. But the song perfectly encapsulates the heart and soul of Louis Armstrong: anytime he appeared on film, played on stage, or performed on record, it was, indeed, a wonderful, wonderful world.
Armstrong died of a heart attack on July 6, 1971, at his home in Corona, Queens, New York, NY. He is interred in Flushing Cemetery in Queens, New York.