The Louis Armstrong Discography: The War Years (1942 - 1946)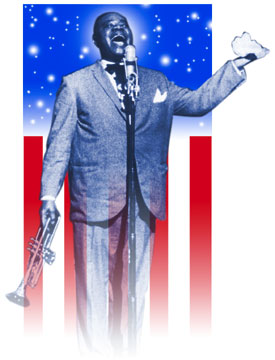 Coinciding with the onset of World War II, the American Federation of Musicians declared a recording strike on 31 July 1942 over royalty payments, much to the irritation of FDR. The strike gradually ran its course as individual record companies settled with the union, concluding with RCA Victor and Columbia both finalizing agreements on 11 November 1944 (Wikipedia 2021).
Joining his union brethren, Louis pretty much stayed out of studio work for the duration of World War II. Happily, however, many recordings from that period have survived in the form of radio broadcast transcriptions and recordings earmarked for distribution to the G.I.s overseas.
A fair number of these records and tapes have surfaced over the years and have been passed among collectors or released in limited numbers under obscure labels. Some are more commonly available, and many are now turning up on CD. Though clearly apart from Louis' major label oeuvre, they are generally spirited collections of material by a man who seemed to live only to perform.
Next: The Louis Armstrong Discography: The All-Stars (1946 - 1956)