The Louis Armstrong Discography: The All-Stars (1946 - 1956)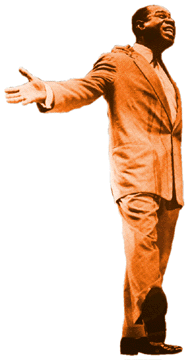 There is a critical perception that Louis Armstrong somehow abandoned his small-band roots when he moved away from the Hot 5 and 7 recordings of the 20's and recorded with the larger bands of the 30's. In reality, though, he had been playing with large units almost exclusively before and since his seminal records on OKeh. With the exception of a small number of hours recording those songs, he had spent the rest of the previous quarter century playing big band music.
In 1947, however, dogged by this undeserved collar and hounded by rising expenses for his touring band, he submitted to managerial pressure to unleash a small combo for a show at Town Hall in New York City; the concert was a howling success, leading the way for Louis to tour with the now-streamlined band he called his "All-Stars." With sporadic changes in personnel, this arrangement suited him for the rest of his performing career. In the studio, the All-Stars recorded scores of tunes, often re-recording the Hot classics from 25 years earlier, and re-rerecording them again when they changed labels.
Louis also frequently fronted elaborate orchestras with white-bread choruses, doing his best with the increasingly tepid pop material his manager provided him. Sometimes he was paired with other singers -- Ella Fitzgerald, Bing and Gary Crosby, and Louis Jordan -- to produce pleasant but forgettable platters. And occasionally, he could still mold a song -- "Mack the Knife" and "A Kiss to Build a Dream On", to name a few -- into an incomparable classic.
Professionally, it was a period of mushrooming excitement for Pops, who was now frequently releasing records and appearing on radio and in movies. In retrospect, however, it was a period of musical unfulfillment. Armstrong's manager, Joe Glaser, though a master at setting up successful concerts and tours, lacked the vision to showcase his number one artist in the light he deserved. Fortunately, others would soon give Louis Armstrong the latitude to lay down his most timeless tracks.
Although Armstrong retained a loyal following to the end of his days that was appreciative of his contribution to the world of music, his place at the vanguard of the music called "jazz" was taken by a new generation of virtuoso performers playing a new music: bop. But the true musical heirs of Louis Armstrong were not really the boppers. The jazz of Louis Armstrong's music was accessible, functional music that represented freedom for both the listener and the hearer. The jazz of Louis Armstrong was created by charismatic performers playing in an individual, idiosyncratic, rhythmically energetic style and peppering lyrics with nonsense syllables. The jazz of Louis Armstrong came from not from the conservatory but from the whorehouse, not from the aristocracy but from the southern proletariat. The jazz of Louis Armstrong was derided by the establishment as noise and its sexual energy was feared by the self-righteous. Although Armstrong probably never realized it, his true musical heirs didn't play something called "jazz", they played something called "Rock and Roll."
Next: The Louis Armstrong Discography: Pure Gold (1956 - 1963)