The Louis Armstrong Discography: Pure Gold (1956 - 1963)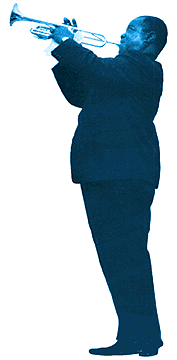 Looking back, we can count ourselves blessed to have a handful of very bright moments preserved from a time when Armstrong's recording career was beginning to fade along with the place of jazz in American popular music.
In the midst of a continuing series of competent but largely uninspired recordings arranged by manager Joe Glaser (to Glaser's credit, Louis was also making the best money of his life), came the offer to record with Norman Granz of Verve Records. The result was a series of discs from 1956 and 1957 that stand with the best of Armstrong's massive catalog. Finally, Louis was teamed with musical peers of his own calibre in relaxed, swinging sessions that showcased his increasingly solid singing and mellow blowing. The sessions with Ella Fitzgerald still blaze with the glow of two topnotch masters; the two albums they shared are liberally peppered with classic renditions of some of Pops' greatest standards. The Oscar Peterson Trio provided all the backing these two needed, resulting in the cleanest sound of any of Louis' records. And, while Peterson was at hand, Louis took the opportunity to lay down numerous additional tracks that, again, are among his best. As the coup de gras, he was ingeniously -- and finally -- paired with Duke Ellington in 1961 for a smash album on the Roulette label; once more, Armstrong is at his best.
Meanwhile, amongst his Decca output came four lackluster LPs from the 1956 "Autobiography" sessions that were an attempt to recapture the spirit of his early recordings in preparation for a Louis Armstrong Story film that never materialized. Sadly, the tracks only show how remarkable the Verve/Roulette albums were in comparison... and how much brighter Armstrong could have shone in the golden years of his life.
Next: The Louis Armstrong Discography: Twilight (1963 - 1971)