Anthony Tudor (1908-1987)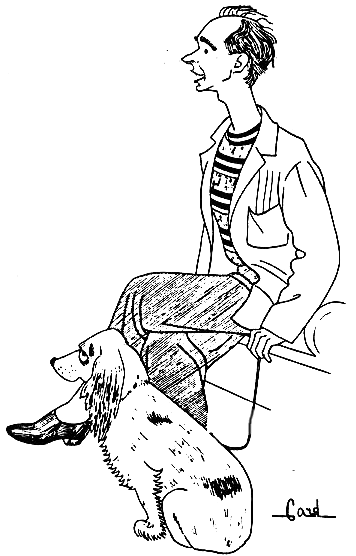 When I first started to dance professionally, the Balanchine camp and the Tudor camp could start a fight over who was the greater choreographer. As I became more knowledgeable I could see they both were great, only different. Antony Tudor's real name was William Cook and when he decided to change his name he figured he might as well take the name of the royal family.
Tudor was a dancer, choreographer and teacher. He began his ballet training with Marie Rambert in 1928, then studied with Pearl Argyle, Harold Turner and Margaret Craske. His earliest professional ballets came with his work for Rambert at the Mercury Theatre. He danced in many of his early ballets: Cross-Garter'd in 1931, Lysistrada and Adam and Eve in 1932, The Planets in 1934 and The Descent of Hebe in 1935. Most of his ballets dealt with psychological themes. He wasn't interested in ballets that were about princesses and fairies. His ballets were about people and their problems. He didn't use the classical vocabulary or the tricks that were so popular at the time.
His ballets Jardin Aux Lilas (1936) and Dark Elegies (1937) were among the first ballets that established him as a first-class choreographer.
He started Dance Theatre with partner Agnes deMille in 1937, and he created ballet after ballet for his very special friend Hugh Laing.
Through Agnes de Mille, Tudor and Laing were encouraged to come to the United States to dance and choreograph for the new ballet company, Ballet Theatre (now known as American Ballet Theatre). As a dancer he originated the roles of The Dummy in Eugene Loring's The Great American Goof (1940) the King in Mikhail Fokine's Bluebeard in New York (1940), and in 1942 he danced the role of Zemphira's father in Aleko, choreographed by Leonide Massine.
Tudor's ballet Pillar of Fire (1942), considered his masterpiece, placed him with the great choreographers Leonide Massine, George Balanchine and Mikhail Fokine.
Tudor evolved an interesting approach to his choreography. Although it probably would not have worked for others, it did for him. He set out with a concept for a ballet -- a mood, a situation, or a story -- and before he started rehearsals he would work out by himself the type of movement which expressed his ideas. After he established the framework, he would then create the steps that would bring it all together. Tudor believed that ballet was a fusion of movements, not a series of separate dances which could be performed independently.
Watching his work from the audience, I would see the premiere and the next night the ballet would be rearranged. He continued this until he was happy with his work. If a ballet was not a success he would drop it and it was never to be seen again.
Tudor was a versatile choreographer, one ballet a tragedy, another a satire, and yet another a comedy.
A brief list of his many ballets that were choreographed in the 1930s and 40s includes Gallant Assembly (1937), Dark Elegies (1937), Judgment of Paris (1938), and Gala Performance (1938). For Ballet Theatre Tudor created Goyescas (1940), Dim Lustre and Romeo and Juliet (1943).
Tudor choreographed two Broadway musicals. I know in a past newsletter I said he only did one, but further research revealed that he had done a number of musicals in London and then on Broadway. Hollywood Pinafore opened on May 31, 1945 and in November of the same year The Day Before Spring premiered.
Tudor left American Ballet Theatre (taking Hugh Laing, Nora Kaye and Diana Adams with him) to work with the New York City Ballet and stayed from 1951 to 1952. While there he choreographed Lady of the Camellias and La Gloire. In 1950 he had become the director of the Metropolitan Opera Ballet and the Met school. Later he was on the faculty of Juilliard, where he choreographed many ballets for his students.
In 1974, Tudor rejoined American Ballet Theatre as Associate Director. He choreographed Leaves Are Fading with the intention of making Gelsey Kirkland a permanent member of ABT.
Tudor was given the Carina Ari Gold Medal in 1973 and the Dance Magazine Award in 1974. He was presented the Kennedy Center Honors in 1986 by President Ronald Reagan, who mispronounced his name. The president called him Antony Tu-dar.
For additional personal anecdotes of Mr. Tudor, see my essay Hair Today, Gone Tomorrow
(First published January 1999)