Sonja Tyven (b. 1928)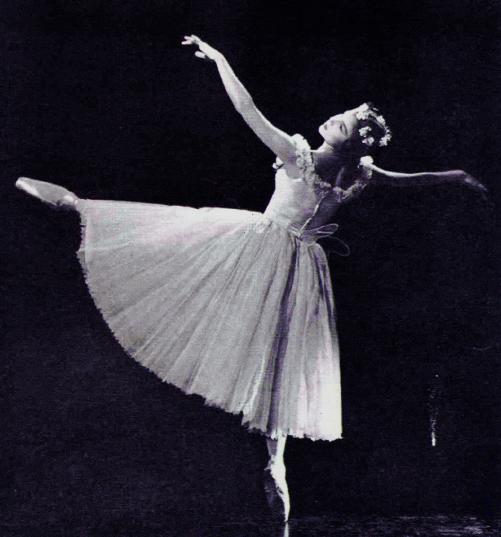 Sonja Tyven's first professional dancing job was in Lerner and Loewe's The Day Before Spring, choreographed by Antony Tudor - his one and only Broadway show.
Sonja was born in New York City on May 29, 1928. She was the younger sister of Gertrude Tyven (Gertrude Svobodina). When Sonja was dancing with Ballet Russe de Monte Carlo her sister Gertrude was also a member -- therefore she used the name Sonja Taanila. [This was not unusual. For example, Patricia Wilde changed her name from White to Wilde because her sister, Nora White, was an established dancer.]
Sonja Tyven began her early training with Vecheslav Swobada and Maria Yurieva. Later she studied with Igor Schwezoff in New York City and Olga Prebrajenska in Paris. Sonja also studied with George Balanchine at the School of American Ballet. In 1946 she joined Ballet Russe de Monte Carlo and stayed until 1952.
Sonja Tyven danced in so many ballets it would be difficult to list them all, but here are a few: Les Sylphides, Carnival, Les Elves, Scheherazade, Prince Igor, Giselle, Swan Lake, and Gaite Parisienne.
While with the Ballet Russe de Monte Carlo, Sonja met Robert Lindgren and they were married in 1952. They have 2 daughters and 3 grandchildren. Fifty years later I will quote Robert: "...and they said it wouldn't last."
Sonja Tyven's Broadway credits included Me and Juliet, Oklahoma, and On Your Toes. She also danced in a number of television shows among them Max Liebman Spectaculars, and Omnibus, choreographed by Agnes de Mille.
With her husband they danced with Alexandra Danilova's Great Moments of Ballet, adding more ballets to her credits. In 1957 Sonja joined The New York City Ballet.
Together, Robert Lindgren and Sonja Tyven opened a ballet school, Lindgren-Tyven School of Ballet, in Phoenix, Arizona.
When Robert moved to Winston-Salem, North Carolina to head the North Carolina School of the Arts (NCSA), his wife Sonja took on the position as Director of the Richmond School of Ballet, as well as Ballet Mistress of the North Carolina Dance Theater. Eventually Sonja became director of the Pre-Program NCSA.
From 1987 - 91 Sonja taught ballet at the YMHA on 92nd Street in New York City. After a 42 year career in dance, Sonja is happy to work in her garden and leave the dancing to her husband Robert Lindgren.
(First published August 2003)