Janet Reed (1916 - 2000)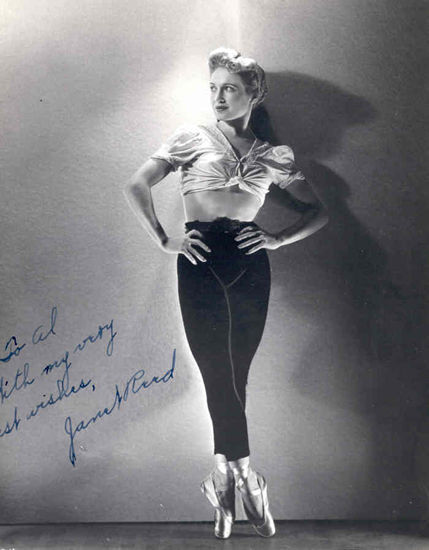 Janet Reed danced Odette-Odile in America's first full-length Swan Lake. She was born in Tolo, Oregon, and started her ballet studies with Eve Benson and Isadora Moldovan in nearby Portland. Oregon. There she eventually studied with and became a protégé of Willam Christensen (the older brother of Harold and Lew Christensen).
Willam Christensen left Oregon to dance with the San Francisco Opera Ballet in 1933, and became its director in 1937. That year Reed joined him to be his ballerina and his partner in all the ballets he choreographed for the company, now called the San Francisco Ballet.
Janet Reed left San Francisco to become ballerina of Dance Players in 1942, and joined Ballet Theatre (now American Ballet Theatre) in 1943. She created roles in Jerome Robbins' Fancy Free (1944) and Interplay, and in Michael Kidd's On Stage (1945), and in Tally-Ho, Undertow, Dim Lustre, Waltz Academy, Pillar of Fire, Gala Performance, Graduation Ball, Mademoiselle Angot, Blue Beard, Pas de Quatre, Three Virgins and a Devil, Judgment of Paris, and the Blue Bird pas de deux in Princess Arora. In 1947 she performed the leading dance role in the musical comedy Look Ma I'm Dancin', which Jerome Robbins choreographed. Nancy Walker and Harold Lang were the other stars.
Reed was a vivacious dancer with a marvelous jump. Richard Thomas said of her dancing, "Janet Reed could really move around -- when you think of the third movement in Symphony in C, and those wonderful double chassé tours she did right and left. Janet was never considered a technician, but George loved her sense of total abandon in air." She was always popular with the audiences.
In 1949 Reed became a member of the New York City Ballet and danced with this company until 1960. For NYCB Reed created roles in George Balanchine's Bourrée Fantasque (1949) and Western Symphony (1954) as well as many other ballets. She danced in Robbins' The Pied Piper (1951), and in John Buttler's The Unicorn, the Gorgon, and the Manticore (1957). From 1959 to 1964 Reed was ballet mistress of NYCB. Reed retired from dancing so she could devote more time to her husband, Branson Erskine, and their son. When she left NYCB Balanchine did not tell her good-bye, but Lincoln Kirstein thanked her, saying, "I'm surprised you stayed as long as you did."
(First published November 1998)