Sono Osato (b. 1919)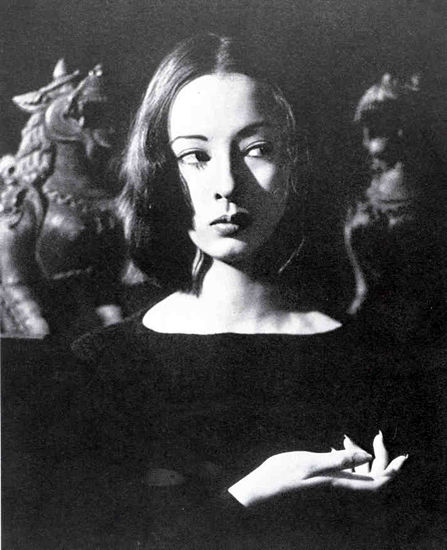 Distant Dances (1980), an autobiography by Sono Osato, is not only a personal account of her life as a dancer and actress, but also a history of one of the first American dancers in the Ballet Russe de Monte Carlo.
Sono Osato doesn't mince words about her personal life or the lives of those she worked with. If you have ever wondered what it was like to be a dancer in the 1930's, 40's, and 50's then you owe it to yourself to read her book.
Sono was born August 29, 1919 to a Japanese father, Shoji, and Irish-French Canadian mother, Frances, in Omaha, Nebraska. Her father converted from Buddhism to Methodism while he was still in his teens, and her mother was a nonconformist who designed her own clothes, bobbed her hair, and smoked in public.
Shoji and Frances met at a party and fell in love, and wanted to marry. But at that time marriage between Japanese and Americans was against the law in Nebraska, so this young couple married secretly in Red Oak, Iowa. The marriage almost ruined Shoji's business as a photographer and Frances was socially ostracized, although her family stood by the young couple. Frances left the family after the birth of Sono and went to Hollywood to become a costume designer for the movies. Things didn't work out for her and she returned to Omaha where Teru, Sono's sister, was born. In 1925 a son, Tim, was born.
In 1927 Frances took her children to Europe. Sono and her siblings were sent to school in France. They moved a number of times, making it difficult for the children to make friends. In many ways this experience was exciting, but because of their Asian looks they stayed to themselves. It was while on a trip to Monte Carlo that Sono had a chance to see Diaghilev's Ballets Russes production of Cléopâtre. Inspired by this great company, she began to improvise dances and create her own theatricals. In Bertelin, Sono had the opportunity to see Tamara Toumanova, a girl her age dance. Impressed by what she had seen, only added to her interest in ballet. Her mother's encouraged her creativity.
In 1929 the family had to return to the United States because of the Depression.
At a chance meeting, Sono and her mother met Mrs. Adolph Bolm who invited them to a Christmas party at Bolm's studio. Mrs. Osato asked Adolph Bolm to accept Sono as a student and he agreed. Even as a young student she showed great dedication. When Bolm left Chicago to go to San Francisco, Berenice Holmes took over his classes. Holmes had been a protegee of Bolm and was his ballerina; she became one of the great teachers in America. Berenice and Sono formed a strong relationship during the daily classes.
Berenice Holmes arranged an audition for her student with Colonel Vassili de Basil. Sono said the audition lasted less than five minutes. Even though she was only fourteen her family allowed her to go on tour with the Ballet Russe de Monte Carlo with the understanding that a married couple would look after her.
Between the years of 1934 and 1939 this shy young girl matured as a dancer and a person. At the age of fifteen she became the lover of Roman Jasinski, one of the Ballet Russe stars. He was several years older and also served as her mentor. This relationship lasted for years. Sono felt that marriage would not work at this time because her career was more important.
Sono toured Europe and the United States several times. She remained faithful to de Basil when he split with Leonide Massine (who formed his Ballet Russe with Renée Blum). Sono danced many ballerina roles without extra pay or title. She finally gave de Basil an ultimatum she wanted more money and the title that went with the position. De Basil couldn't believe that this shy young girl had grown into a determined young woman, and refused. Sono left the company -- without a moment of regret.
In 1940 her friend Irina Baronova, whose husband Gerry Sevastianov was a director of Ballet Theatre, invited her to join that company. While she was with Ballet Theatre, World War II started with the Japanese bombing of Pearl Harbor. Because of the anti-Japanese feelings in America, Sono had to dance under her mother's maiden name, Fitzpatrick. Even so, she was not allowed to go on a Mexican tour or dance west of the Mississippi. Her father, like other Japanese-Americans was placed in an internment camp.
When Sono fell in love with and married Victor Elmaleh, she retired from Ballet Theatre to have a family. Theatre was such a part of her life, however, she was lured by Nora Kaye back to the stage for the musical One Touch of Venus (1943), choreographed by Agnes de Mille. In 1944 she originated the role of Miss Turnstiles in On The Town, which was choreographed by Jerome Robbins. She also performed for the USO and made a movie with Frank Sinatra, The Kissing Bandit (1947).
Quoting from her book, Sono Osato sums up of her life by saying, "The chance to see the Diaghilev ballet in Monte Carlo had led to Bertelin, to Toumanova at the Trocadéro, to Bolm, and to Berenice. Berenice directed me to the colonel, where I met Gerry Sevastianov. Gerry took me into Ballet Theatre, where I met Nora [Kaye]. Nora led me to Agnes; One Touch of Venus to On The Town."
(First published November 1997)