Nicholas Orloff (1914 - 2001)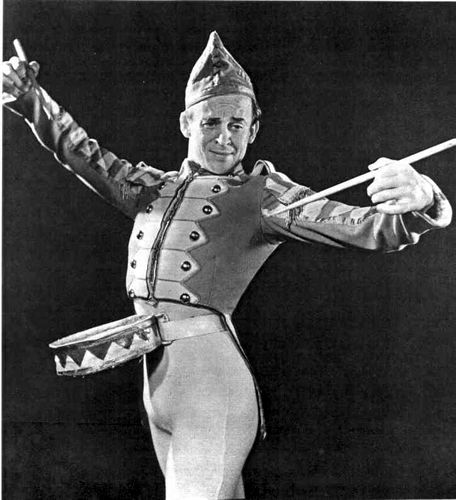 Nicholas Orloff was born in Petrograd in 1914 under the rule of Tzar Nicholas Romanoff. His father, an army officer, was killed in battle during the First World War. The Russian revolution of 1917 followed W.W. I and Petrograd was renamed Leningrad.
When Orloff was 3½ years old, he remembers that in the middle of the night he, his mother, and his grandmother were evacuated to Odessa, 900 miles away. Being 3½ years old his most outstanding memory of that night was that he got to ride on the barrel of a cannon. From Odessa they were sent to occupied Constantinople. Orloff and his mother lived in Constantinople for 4 years; when he was about 8 years old they were moved to a refugee camp in Marseilles, France. His family had the choice of going to either America or Paris, but since the only thing they knew of this new country was the Wild West that they had seen on the screen, they decided to go to Paris.
Orloff was enrolled in a private Catholic boys' school because it had a choir, but his voice wasn't good enough for the school. He attended several other schools and then he went to college. During his vacation he started dance training at Olga Preobrajenska's famous school, "Studio Wacker." Another student, Vladimir Dokoudowsky, helped Orloff to catch up with the class. Orloff proved to be a great character dancer. When a Berlin impresario saw him he was invited to dance in Germany. After a special performance at the Winter Garden he was asked to dance in a command performance for the Dutch Prince Bernard, in Amsterdam.
Orloff auditioned for a movie in Germany but was ousted because of politics -- the kind I have mentioned in the past -- and he returned to Paris in 1938. He caught the eye of Leonide Massine and was offered a position in the Ballet Russe de Monte Carlo in the summer of 1939.
The advent of World War II in 1939 delayed the United States touring plans of the Ballet Russe de Monte Carlo. Orloff gives Serge Lifar credit for getting permission for the Ballet Russe to leave Europe. There was a second company of Colonel Vassili de Basil's Ballet Russe that went to Australia in 1936 with Leon Woizikowsky as director. They stayed for two years. Under the new name of the Original Ballet Russe, the company returned to Australia in 1940, this time with Orloff as a member of the company.
It was with this group that David Lichine premiered Graduation Ball, with Orloff creating the virtuoso role of the Drummer Boy. Because of politics in the company, Orloff said, that the Drummer Boy was the only principal role he would get to do. Japan had not yet bombed Pearl Harbor, but to avoid the developing trouble in the Far East, Ballet Russe went to Pago Pago, an island of the American Somoa, and eventually to San Francisco. From there, Sol Hurok booked a tour to South America. In Mexico the company was a great success, but by the time they got to Havana, Cuba, the dancers went on strike, declaring breach of contract and underpayment of salaries. The dancers were stranded in Cuba for months until AGMA (American Guild of Musical Artists) came to their rescue and got them back to the United States.
De Basil arranged another tour, but as many as 16 or 18 dancers, including Orloff, left to join the new Ballet Theatre (now American Ballet Theatre) in 1940. After their first season at the Center Theatre at Rockefeller Center in New York City, Ballet Theatre gave a series of performances in Philadelphia and at Lewisohn Stadium in New York. During the summer the company regrouped at Jacob's Pillow in Massachusetts, where Orloff danced the part of Mercutio in Antony Tudor's Romeo and Juliet.
Like many dancers of the time, Orloff would dance in any company that was having a season. He was a guest artist at the Metropolitan Opera Ballet Company in 1943, and also starred in a movie with Violette Verdy, Dream Ballerina, the same year. He returned to Ballet Theatre in 1946 and rejoined the Original Ballet Russe for the 1947-48 season. He then joined Marquis de Cuevas' company. During a time of unemployment he felt hopeless. Because he had a Russian accent, Balanchine offered him a speaking part on Broadway in On Your Toes, for which he got rave reviews. Orloff also performed a night-club act and had to sew all the costumes. There was another barren period until he got a part in Rodgers and Hammerstein's Pipe Dream in 1955. He also danced again with the Ballet Russe de Monte Carlo under the direction of Serge Denham, who replaced Rene Blum.
Even though Orloff felt like an American, it took seven years to become a citizen -- or what he called "a Yankee." When I asked him, "When did you retire?" Nicholas Orloff shouted excitedly, "I never retire!!!!" Unfortunately, his body had other ideas. He had a major stroke and passed away 8/14/2001 at the Tolstoy Home.
(First published July 1997)
Nicholas Orloff in Connecticut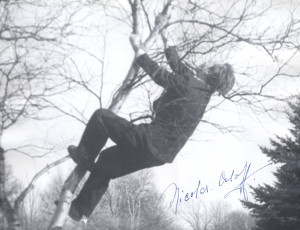 In the Spring of 2015, Ann Wilson sent us this photo and a story:
A very long time ago when I went to Connecticut College in New London, I took two years of Russian. The teachers were a married couple. He had served in the White Russian army and then came to the USA via France and he knew everyone Russian. It was a small world in those days. Russian dancers were constantly staying at their house in the country and I was often there too. I was there when Nicolas was there but never when the stars were there. I was also a demon photographer at the time and developed and printed my own pictures which is why I have this one he autographed on a subsequent trip. The year would have been 1952 and he is - wait for it - up a tree. It is such fun that it's no wonder I printed it and he signed it for me.