Bronislava Fominitshna Nijinska (1891 - 1972)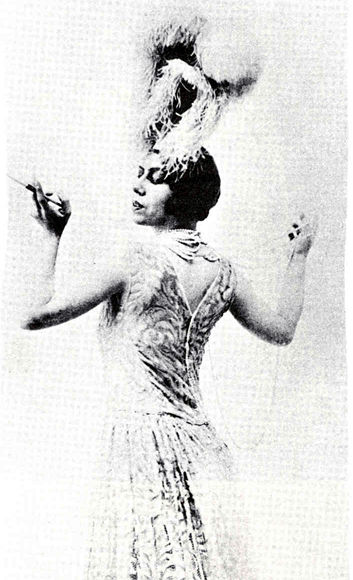 Being the younger sister of perhaps the most famous dancer of the twentieth century (Vaslav Nijinsky), had to have been a difficult situation for Bronia. Not only did she handle this with dignity, but she went on to become his protector. Nijinska was born in 1891 while her parents, Eleonora Bereda and Foma Nijinsky, were on tour in Warsaw. Her first teacher was Enrico Cecchetti, and later she became a student of St. Petersburg's Imperial Ballet School. After graduating in 1908 she joined the Maryinsky Ballet. Bronia and Vaslav became a members of the Diaghilev Ballet in 1909. Some of the roles she created were in Fokine's Carnaval (1910) and Petrushka (1911).
As a dancer she was especially renowned for her jumps. When Vaslav was dismissed from the Maryinsky Ballet in 1911, she insisted that she also be dismissed, and she was forced to forfeit her title "Artist of the Imperial Theatre." Nijinska danced in her brother's short lived ballet company in London in 1914. In 1915 she returned to Russia. She danced in Kiev, and opened a school where she trained her most famous student, Serge Lifar.
In 1921 Nijinska rejoined the Ballets Russes. One of the first pieces she choreographed was "Three Ivans" for Petipa'sThe Sleeping Beauty later renamed Sleeping Princess While she was a dancer with the Ballets Russes she became the chief choreographer of the company. Her first ballets were Igor Stravinsky's Renard (1922) and Les Noces (1923). The following year she choreographed Les Biches, Les Fâcheux and Le Train Bleu. She also helped her brother, Vaslav with his L'Apres-midi d'un faune, and danced in many of his ballets.
Bronislava later choreographed for the Paris Opéra, Opéra Russe à Paris, and her own company. She settled in California and opened a Ballet School. From time to time she would teach at the American Ballet Theatre School. She certainly would be considered one of the most gifted and original choreographers of the twentieth century. In 1972 she died in Los Angeles.
(First published June 1995)