Vaslav Fomich Nijinsky (1888-1950)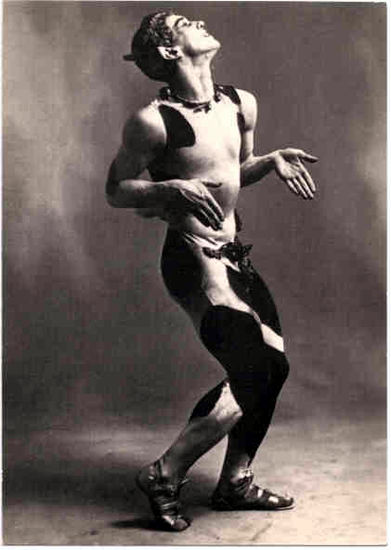 Vaslav Nijinsky was born in Kiev, Russia, March 12, 1888, while his parents, dancers Eleonora Bereda and Foma Nijinsky were on tour. He entered the Imperial School in St. Petersburg in 1898, and upon graduation in 1907 became a soloist with the Maryinsky Theatre. He was short and stocky, and offstage, shy and reserved, yet the public adored him. Nijinsky moved in the aristocratic society of St. Petersburg. At a party he met Sergei Diaghilev, and under the influence of Diaghilev's strong personality, he soon became his lover and protégé.
Diaghilev dictated Vaslav's every move, both on and offstage. He made sure that Nijinsky read the right books, and went to museums, concerts and art galleries. During his vacation Nijinsky went to Paris with his mentor and danced the leading roles in Le Pavillion d'Armida and Les Sylphides with Pavlova in 1909. The next year he danced the golden slave in Scheherazade. He continued to dance with the Diaghilev Ballet after 1909, although Anna Pavlova left because Diaghilev favored his male dancers. Although Vaslav danced with many great ballerinas he was most associated with Tamara Karsavina, with whom he danced in 1911 in one of the most famous ballets of the time, Le Spectre de la Rose.
According to Judith Steeh's History of Ballet and Modern Dance Nijinsky danced with Isadora Duncan in Paris and she influenced him as both dancer and choreographer. His choreography broke away from his classical training. His ballets were controversial: in L'Apres-midi d'un Faune the dancers suggested a two-dimensional bas relief, were barefoot and the closing scene simulated masturbation. His Jeux made headlines in the morning press, and Le Sacre du Printemps had the audiences shouting obscenities in the theater and on the streets of Paris.
In 1913 the Ballets Russes toured South America, and because of his fear of ocean voyages Diaghilev did not accompany them. Without his mentor's supervision Nijinsky fell in love with Romola de Pulszky, a Hungarian dancer. They were married in Buenos Aires: when the company returned to Europe, Diaghilev, in a jealous rage, fired them both.
During World War I Nijinsky, a Russian citizen, was interned in Hungary. Diaghilev succeeded in getting him out for a North American tour in 1916, during which he choreographed and danced the leading role in Till Eulenspiegel. Signs of his dementia praecox were becoming apparent to members of the company. He became afraid of other dancers and that a trap door would be left open. Nijinsky spent may years in and out of mental hospitals. In 1947 the family moved to London, where he was cared for by his loving wife, Romola, until his death in 1950. He is buried in Paris at the Sacre Coeur cemetery, beside the graves of Gaetano Vestris, Theophile Gautier, and Emma Livry.
Vaslav Nijinsky is remembered especially for his effortless elevation, achieved without visible preparation. The combination of his virtuosity with acting and style made him the most famous male dancer of the twentieth century.
(First published December 1994)