Mary Ellen Moylan (1926 - 2020)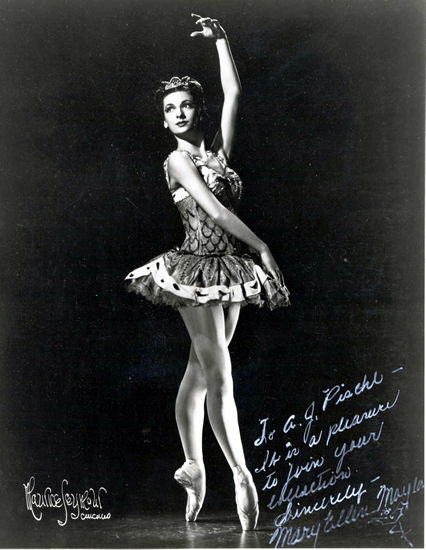 (Video and interview of Moylan)
Mary Ellen Moylan was born in Cincinnati, Ohio, but spent her teenage years in St. Petersburg, Florida, where she started dance training, studying ballet, tap, and acrobatics. Her aunt brought her to New York City, where she studied ballet at the School of American Ballet, voice with Belle Soudant and drama at the Alice Young Studio. In 1942 Moylan made her debut as première danseuse, with José Limon as her partner, in the musical Rosalinda, which was choreographed by George Balanchine. The same year she danced with the New Opera Company, also in choreography by Balanchine.
Moylan became a soloist with Ballet Russe de Monte Carlo (1943-44), dancing in Serenade, Etude, Les Sylphides, Snow Maiden Ballet, Imperial, Le Bourgeois Gentilhomme, and many other ballets. At that time it was common for company members to dance in every ballet of the evening.
Moylan danced in Song of Norway in 1944, when Ballet Russes de Monte Carlo was loaned out by Serge Denham, its director. Antony Tudor featured her in the musical, Day Before Spring (1945-46), which was Tudor's only Broadway show. In 1946 Moylan was a charter member of Balanchine's Ballet Society. In the spring of 1947 she danced in the musical the Chocolate Soldier and then rejoined Ballet Russe as a ballerina, where she remained until she retired.
Discussing her decision to rejoin Ballet Russe Moylan wrote in Francis Mason's I Remember Balanchine: "Around this time Balanchine and Oliver Smith asked me to lunch at the Stork Club. They told me they wanted me to come to Ballet Theatre (now American Ballet Theatre) where Balanchine would make a new ballet, Theme and Variations, for me and Igor Youskevitch. The music was Tchaikovsky. I thought for a minute and said no. I had a chance to go back to Ballet Russe and dance all the big old roles, and I preferred that. Balanchine was astonished, I think." Years later she did dance the ballet with Youskevitch in Paris.
After her retirement, Moylan moved to California. During a visit to New York City she dropped in to see Balanchine's new studio. He stopped class and said, "This is Mary Ellen. She was the first."
Moylan passed away on 28 April 2020 in Redmond, Washington.
(First published November 1998)