Nicholas Magallanes (1922 - 1977)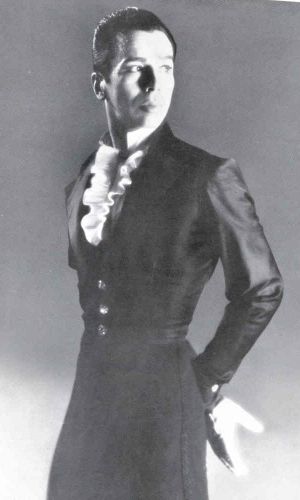 All who worked with him called Nicholas Magallanes, Nicky. Nicky was born in Camargo a small village in Chihuahua, Mexico, and moved to New Jersey when he was five. Later the family moved to the Lower East Side. Handsome is not a strong enough word to describe his very good looks and a beautifully defined body.
According to Maria Tallchief in her book, she spoke often of a man named Pavel Tchelitchev. Who George Balanchine called Pavlik, It is said that Pavlik was the person who brought Lincoln Kirstein and George Balanchine together in 1933. Kirstein, Balanchine, Edward Warburg, and Vladimir Dimeitriew were co-founders of the School of American Ballet. In the early days of the School of American Ballet, they were always looking for men to join the school. When Pavlik spotted Nicky at the New York Boy's Club on east Tenth Street, he saw this beautiful teenager with a muscular body, and thought he would be perfect for SAB. Pavlik introduced Nicky to Kirstein and made sure he was given a scholarship, around 1938 or 39.
Although the School of American Ballet remained opened, Balanchine did not have a performing company during WW II, therefore Nicky found work joining Ballet Caravan in 1941, The Littlefield Ballet in 1942. He then became a member of the Ballet Russes de Monte Carlo from 1943 until 1946.
After the war Balanchine started Ballet Society in 1946 giving its first performance at the Needle Trade High School. Later Ballet Society was invited to be part of the City Center Theatre, and the name of the company was changed to The New York City Ballet. Nicky was an original member of Ballet Society and NYCB.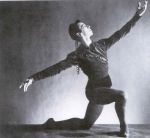 Nicky created roles in Balanchine's Night Shadow in 1946, Orpheus in 1948, La Valse in 1951, Western Symphony in 1954, Episodes in 1959 , Liebeslieder Waltzer in 1960 and A Midsummer Night's Dream in 1962. Jerome Robbins created The Guests in 1949, The Cage and The Pied Piper both in 1951 featuring Nicky. Nicky danced in Sir Frederick Ashton' Illuminations in 1950, John Butler's The Unicorn, The Gorgon, and The Manticore in 1957. He also danced in almost every ballet in the company's repertoire.
It was Nicky that encouraged Melissa Hayden to audition for Balanchine, when he was a guest artist for Alicia Alonzo Ballet in Cuba, and you can read about Melissa in her bio on this web site.
Nicky, himself was very well liked by those who worked with him. He was always a real student, he never stopped learning. It was not unusual for him to climb to the fly floor and watch ballets with a bird's eye view. He began to know what Balanchine wanted and how to achieve it.
Nicky was not virtuoso dancer but a perfect partner and partnered every ballerina of that time. He was also a fine dramatic actor. Balanchine choreographed The Nutcracker pas de duex for Andre Eglevsky and Maria Tallchief but Andre injured his ankle and couldn't dance. He didn't have an understudy but Nicky learned the part with one day's rehearsal. Nicky partnered Maria Tallchief in the opening night of The Nutcrackerin 1954.
One of Nicky favorite pastimes was playing cards with the other company members. It was not uncommon to see him and others at rest or on tour, Nicky seated around in a group playing cards together.
Nicky began to read the writing of the wall when Balanchine said, "Nicky I think it is time you should think about dying your hair." Nicky knew himself when he was dancing Serenade and had to go to his knees and had trouble getting up. His last performance was with the company in 1976 in Don Quixote.
Nicky began to teach and was a very demanding taskmaster. I taught with him at The New York School of Ballet.
Nicky died of lung cancer according to Tallchief's book. He was a wonderful dancer and dear friend.
(First published December 2000)