Alicia Markova (Lillian Alicia Marks) (1910 - 2004)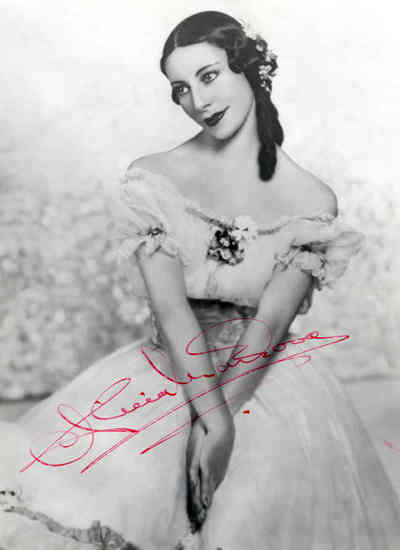 When Anton Dolin returned to England in 1925 with the Ballets Russes, he visited his old teacher, Serafina Astafieva, and noticed a young girl in her class whom he thought was very talented. He convinced Astafieva to have a party, invite Serge Diaghilev, and have the young girl dance. The young girl was Alicia Marks.
After Alicia's short variation Diaghilev exclaimed to Astafieva, "You have given a genius to the world. The ballet has found its next generation." Diaghilev had actually seen Alicia dance before. When she was eleven he had hired her for The Sleeping Princess. He was going to create a special role for her, but Alicia was stricken with diphtheria and could not accept the job in 1921. On her fourteenth birthday Alicia was accepted into the Ballets Russes, where she was renamed Alicia Markova and where she danced until Diaghilev's untimely death in 1929. In 1925 Markova was given the title role of the nightingale in Balanchine's Le Rossignol, and by 1929 was dancing many ballerina roles.
Serge Diaghilev did not prepare anyone to replace him if something should happened to him. I believe he thought he would live forever. Thus after his death, the company was disbanded and all the dancers had to find work wherever they could. I asked my dear friend Sonia Woizikowska what happened after Diaghilev's death. Her parents, Helene Antonova and Leon Woizikowski, were both members of the Ballets Russes. Sonia, who was ten years old when this happened, told me in her own unique way, "Mother went here and Daddy went there and Aunt Vera [Nemtchinova] danced in yet another place and etc."
Markova returned to London and danced with The Carmargo Society (1931), Vic-Wells Ballet and Ballet Rambert (1931 to 1935), and The Markova-Dolin Company (1935 to 1938). She created important roles for Frederick Ashton* in La Peri and Facade (1931), Foyer de danse (1932), Les Rendezvous (1933), and Mephisto Valse (1934). In the 1930's a series of dance companies appeared, often using the name Ballet Russe de Monte Carlo in some form or other: Rene Blum's Ballet Russe de Monte Carlo, Col. de Basil Ballet Russe de Monte Carlo, The Original Ballet Russe, and Marquis de Cuevas Ballet Russe. Markova was either resident ballerina or guest artist for all. She was the prima ballerina of Ballet Theatre (now called American Ballet Theatre) from 1941 to 1944 and again in 1945 and 1946. In 1943 she originated the role of Juliet in Antony Tudor's Romeo and Juliet. Markova's dancing was incredibly light and delicate, making her performances of Giselle an unforgettable event. In addition, she had a crisp, precise technique that was a delight for those of us who had the privilege to see her dance in many classic roles.
Markova wrote a book called Giselle and I in 1960 about her experiences in her most famous role. From 1963 to 1969 she was ballet director of the Metropolitan Opera. In 1963 she was awarded the title "Dame of the British Empire" by Queen Elizabeth II. Since 1973 she has served as a Governor of England's Royal Ballet.
Markova passed away on December 2, 2004 in Bath, England at the age of 94.
(First published July 1996, last updated December 2004)