Serge Lifar (1903-1986)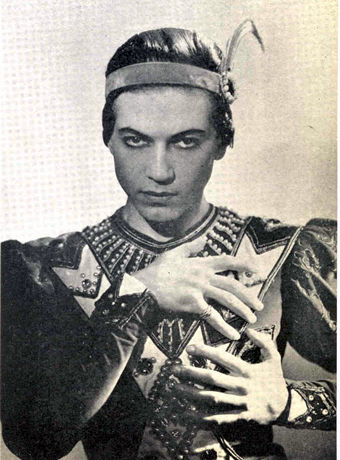 Lifar was born in Kiev and trained there by Bronislava Nijinska. He was accepted into the Ballets Russes in 1923, even though Nijinska thought he was not yet ready. Serge Lifar's career was delayed a year because he did not accept Serge Diaghilev's invitation to breakfast. Richard Buckle in his book Diaghilev said, "How lucky, though, we can exclaim, with hindsight! If the process of grooming Lifar for stardom had begun a year earlier than it did, Diaghilev might never have engaged Anton Dolin."
Diaghilev insisted that Lifar's training continue with Enrico Cecchetti, Nicolai Legat and Pierre Vladimirov. Lifar was very handsome, had a fine physique, and a great desire to be liked. He was known for his notorious and unscrupulous displays of ego. Partnering Alicia Markova at London's Drury Lane Theatre his extremely unprofessional jealousy of her triumph caused a minor scandal. In 1938 they danced again when Markova was making her debut in America. The ballet was almost ruined by Lifar's ungallant attempts to steal scenes, causing a critic to write that his performance in Giselle would justify changing the name of the ballet to Albrecht.
Gore Vidal tells of a conversation between himself and Antony Tudor. "I have always wanted to see Serge Lifar. Now I have. And it's all true..."
"What is true?" I asked.
Tudor replied, "He is every bit as bad -- no, dreadful -- as I've always heard."
Lifar eventually replaced Anton Dolin as Diaghilev's favorite when Dolin left to dance in Cochran's Revues with Vera Nemtchinova. Diaghilev made sure Lifar continued his daily classes with Enrico Cecchetti. Wherever Lifar went, Cecchetti was there to give his ward lessons. Lifar was the last of the Ballets Russes' premier danseurs, although Dolin did return to the company as one of the stars. Two of Lifar's greatest achievements as a dancer in the Ballets Russes were in Balanchine's Apollo and The Prodigal Son.
After Serge Diaghilev's death in 1929, Lifar became premier danseur of the Paris Opera Ballet, whose reputation had declined since the Victorian era. By 1933 he had become its Director and Professor of Dance .
In 1939 Lifar joined the Ballet Russe de Monte Carlo where he again danced with Alicia Markova, this time at London's Covent Garden. Despite being past his prime he gave dramatic and moving performances.
Lifar held the position of Director at the Paris Opera Ballet for 20 years, creating 90 percent of the choreography and dancing many leading roles. Although himself trained by Cecchetti, he replaced the Italian technique at the Opera with the modern Russian Vaganova School, named for the great Kirov teacher Aggripina Vaganova.
Lifar was as dynamic as he was controversial in his personal life. During World War II he was accused of being a Nazi collaborator, although this was never proven. Among the 25 books on dance and dancers that he wrote was his autobiography, Ma Vie (1965).
(First published June 1996)