Robert Lindgren (1923 - 2013)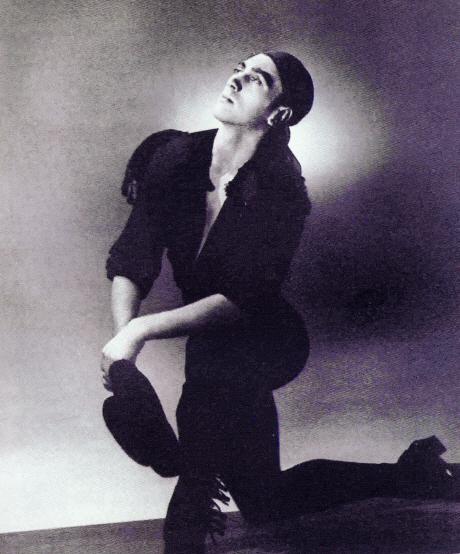 Ballet is a relatively new art form in the Americas. The first major ballet company was the San Francisco Ballet, founded in 1933. Dancers trained at that time were few in numbers and had to fight to find an out let for their talents. Even in the early 1950s, I once had a parent tell me that all girls should study ballet, but not go on the stage. A male dancer not only had to defy his parents, but society as well.
In the early days the teachers, for the most part, were defectors from Diaghilev's Ballet Russe. One of the early Canadian-American male dancers to be a soloist in the Ballet Russe de Monte Carlo was Robert Lindgren.
Although Robert was born in Victoria British Columbia, his professional work started in the USA. He was born December 9, 1923 -- 10 years before the first ballet company began in America. His first teacher was June Roper. At 19 Robert was ready to make dance a career. He was invited by the famous choreographer, Leonide Massine to join the Ballet Russe de Monte Carlo, and while waiting for his visa, he worked for Boeing Aircraft Company building PBY flying boats.
Shortly after his time with Ballet Russe de Monte Carlo, Leonide Massine, left to join Ballet Theatre (now called American Ballet Theatre). Ballet Theatre made its debut at the Center Theatre in Rockefeller Center in 1940. Massine invited Robert to join him at Ballet Theatre from 1942 to 1943. With Ballet Theater Robert had the opportunity to dance in Antony Tudor's Gala Performance, Romeo and Juliet, and Pillar of Fire. Massine's Cappricio Espanol, Boutique Fantasque, Le Tricoene (The Three Cornered Hat), and Aleko, George Balanchine's Errante, Eugene Lorning's Billy the Kid, and all the classics. What I wouldn't give today to see a company with that repertoire. After his discharge from the Royal Canadian Air Force in 1944, Robert rejoined Ballet Russe de Monte Carlo.
Mr. Lindgren did a number of Broadway shows before becoming a member of the New York City Ballet Company in 1952. He married his wife of 50 years, Sonja Tyven on June 4, 1952. In 1959 Robert and Sonia opened the Lindgren-Tyven School of Ballet in Phoenix, Arizona.
In 1965 Robert was invited to be the founding dean of the North Carolina School of the Arts, where he stayed until he retired. Lincoln Kirsten, upon retiring, asked Robert to succeed him as president of the School of American Ballet.
Among the many awards given to Robert Lindgren are The North Carolina Governor's Award for outstanding contribution to the Arts, a Honorary Docorate with a PhD of Fine Arts.
Lindgren died at his home in Winston-Salem, NC on May 9, 2013.