Michael Kidd (1919 - 2007)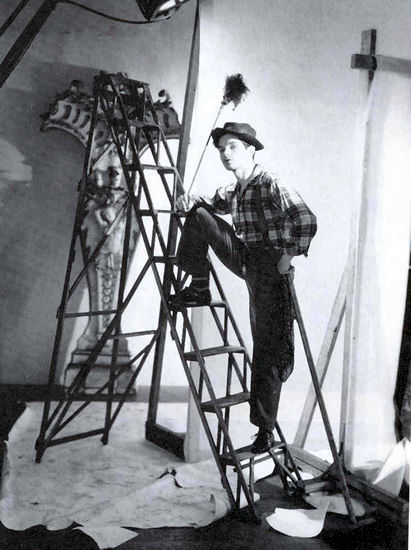 Brooklyn-born dancer and choreographer Michael Kidd was initially an engineering student for three years at City College in New York, but became interested in dance and theater through his older brother Phil Greenwald, who was the legendary talent booker for the equally legendary Concord Hotel in New York's Catskill Mountains. That is how Michael Greenwald acquired his stage name: he was constantly referred to as Phil's "kid brother."
Kidd studied dancing with Anatole Vilzak, Ludmila Shollar, and Muriel Stuart. He made his stage debut in The Eternal Road (1937), and in the same year became a member of American Ballet, and then Ballet Caravan, where he remained until 1940 (These companies were forerunners of the New York City Ballet). Among his roles was the title role in Eugene Loring's Billy the Kid. Kidd danced with Ballet Caravan at the 1939 World's Fair (Railroad on Parade), and also at Radio City Music Hall in 1940. He was soloist and assistant director with Dance Players (1941-1942), where he repeated the role of Billy in Billy the Kid, and also danced in Man from Midian, City Portrait, and Harlequin for the President.
In 1942 Kidd joined Ballet Theatre (now American Ballet Theatre) as a soloist. Besides Billy the Kid he danced in Mikhail Fokine's Petrouchka and Bluebeard, Antony Tudor's Undertow and Pillar of Fire, Agnes de Mille's Three Virgins and a Devil, Jerome Robbins' Fancy Free and Interplay, David Lichine's Helen of Troy, and Aurora's Wedding (the third act of Sleeping Beauty). For Ballet Theatre he choreographed On Stage in 1945 in which he created the leading role of the Handyman.
Kidd won five Tony Awards for his Broadway choreography: Finian's Rainbow (1947), Guys and Dolls (1951), Can-Can (1953), Li'l Abner (1957), and Destry Rides Again (1959). He also choreographed Ben Franklin in Paris (1964), and The Rothschilds (1970).
For the movies Kidd choreographed Where's Charley (1949), The Band Wagon (1953), Seven Brides for Seven Brothers (1954), and Hello Dolly (1969). Kidd also acted and danced in movies: Movie Movie and Skin Deep. Gene Kelly invited him to dance with him and Dan Daily in It's Always Fair Weather. The image of Kelly, Kidd and Daily boisterously dancing along a New York City street with garbage-can lids attached to their shoes is one of the happiest in musical comedy history. Kidd also directed one film, the very disappointing Merry Andrews with Danny Kaye.
When big Hollywood musicals were no longer money makers, Kidd returned to Broadway. He was the first person to take on the task of directing and choreographing the same show on Broadway (Li'l Abner, 1956). Jerome Robbins, Michael Bennett, Bob Fosse, Tommy Tune and others distinguished director/choreographers have followed in his foot steps. In 1993 he was nominated for a Tony award for directing Neil Simon's The Goodbye Girl. Graciella Daniele choreographed and Marvin Hamlisch wrote the music. Kidd also choreographed and directed for television. He was presented an Honorary Award, by the Board of Governors of the Academy of Motion Picture Arts and Sciences at the 69th Academy Award Show in 1996.
Kidd passed away on December 23, 2007 at his home in Los Angeles, leaving behind a choreographic legacy that can best be described in one word - "Exuberant!"
(First published June 1998)