Nathalie Krassovska (1918 - 2005)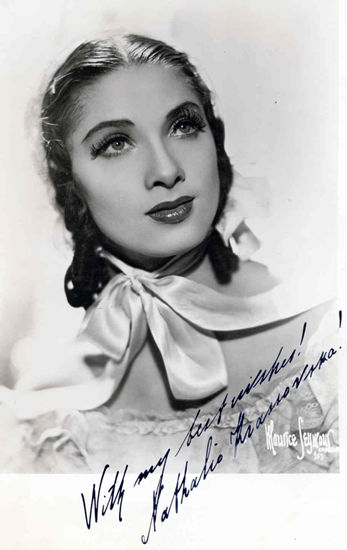 As a teenager I had seen Nathalie Krassovska dance many times, and in 1948 I had the opportunity to meet her. I decided right then that she was the most beautiful woman I had ever seen. That memory is one that I will not forget. The last time I saw her dance was with Igor Youskevitch in his short-lived company, Ballet Romantique, in 1964. In 1990 I had the chance to work with her for the New York International Ballet Competition; Krassovska was a coach and I was one of the teachers. I considered it a privilege to be listed together with her on the same program.
Krassovska was born Natasha Leslie in Petrograd/Lennigrad in 1918. Her grandmother was a soloist with the Bolshoi Ballet, and her mother, Lydia Krassovska, was a dancer with Diaghilev's Ballets Russes. How Nathalie got to Paris I don't know, but once there she began her ballet training with Olga Preobrajenska and choreographer Bronislava Nijinska, who called Krassovska "my second daughter."
Under the name of Nathalie Leslie she danced with Ida Rubinstein's Company at the Paris Opera, and Nijinska's Ballet Russe in 1932. George Balanchine offered to choreograph a ballet for her when she was dancing with his Les Ballets 1933. "I was still very young and shy," she says, "I remember I was sitting on the floor and he came over to me and wanted me to do a solo. I started to cry, 'No, no, no solo.' I was too afraid." Les Ballets 1933 proved to be financially unsuccessful. Krassovska became the partner of Serge Lifar on a tour in South America. She then danced with the Ballet Russe de Monte Carlo (1935-1950) where she was coached extensively by Mikhail Fokine in Les Sylphides, Le Spectre de la Rose, and Pas de Quatre. Krassovska danced with the London Festival Ballet from 1950 to 1960.

In 1941, while a member of the Ballet Russe de Monte Carlo, Krassovska appeared in two movies choreographed by Leonide Massine -- Spanish Festival (Capriccio Espagnol) and Gaité Parisienne. Her remarkable beauty caught the eye of David O. Selznick and he offered her a movie contract. She said it was a very difficult decision, but she chose to remain with the ballet company.
Her personal life was also very eventful: there were many romances and a brief marriage with an Austrian count. "I've been in love all my life," she told me.
During World War II the very naive Krassovska was sitting in a restaurant and a sailor came up to her and in a very seductive voice asked, "What are you doing tonight?" She looked up, gazed at him with her big brown eyes and said very seriously, "Giselle."
Having toured the United States a number of times, Krassovska decided that Dallas, Texas, was one of the nicest cities on the tours. She thought the flowers, pretty trees and climate made it the place where she would like to live. One of her impressions of Dallas speaks volumes: "I went to Neiman Marcus for tea and it was like Europe -- all the ladies in beautiful hats." In the early 1960's she retired to this Texas city and began to teach what she had been taught, concentrating on the romantic style that had always been her specialty.
She formed a company of her students, Madame Krassovska's Ballet Jeunesse, and supported her other main interest -- the Eastern Orthodox Church. Krassovska helped raise $850,000 toward a construction project for the St. Seraphim Orthodox Church in Dallas.
"I want to teach until I die," she has said. One of her teachers, Antonina Tumkovsky, taught until she was 92. Krassovska also told me, "I always thank God that I do what I like to do, especially that I dance and they pay me money."
Madame Krassovska passed away on February 8, 2005 in Dallas due to complications from surgery.
Editor's Note: When I was on tour in Dallas in 1993, I had the honor of taking a class with Madame Krassovska. She had a modest studio attached to her home. It was a weeknight and there were only three of us in class, including a 20-something woman who would randomly retreat from the class and start doing floor stretches and calisthenics. But Madame Krassovska soldiered on and I was struck by both her graciousness as a teacher and person as well as the remarkable physical grace she still possessed at the age of 75.
(First published September 1997, updated February 2005)