Nora Kaye (1920-1987)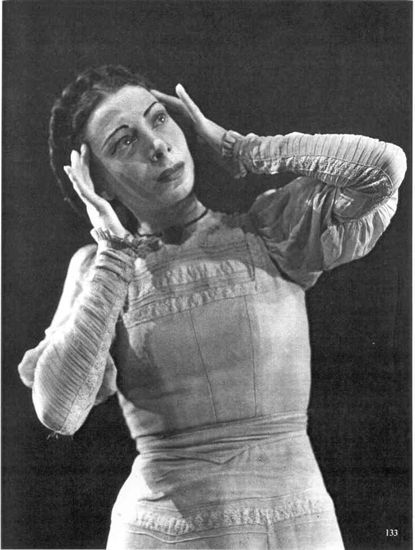 My last memory of Nora Kaye was of her memorial service, when Alicia Alonso said in a very heavy Cuban accent: "The reason I speak English so poorly is that I learned it from Nora Kaye." Nora had a Brooklyn accent that only a comedienne could imitate.
Nora Kaye was born Nora Koreff of Russian parents who lived in Brooklyn . At this time it was fashionable for dancers to have Russian names, yet she changed her name to the more "American" sounding Kaye.
Her ballet training started at the Metropolitan Opera Ballet and the School of American Ballet. Later her teachers included Mikhail Fokine, Anatole Vilzak, Ludmilla Shollar, Antony Tudor, and Margaret Craske.
Kaye danced in the children's ballets at the Metropolitan Opera from age nine to fifteen. When the American Ballet (directed by George Balanchine) became the official company of the Metropolitan Opera in 1936 she joined this company. Balanchine and the Met management did not get along and he left in 1938.
Kaye then became a member of the Radio City Music Hall corps de ballet, and then danced in several Broadway shows: Virginia, Great Lady,and Stars In Your Eyes. In 1939 she joined Ballet Theatre (now American Ballet Theatre) as a corps de ballet member.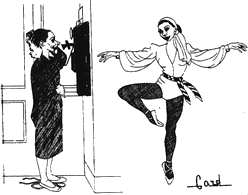 Ballet Theatre gave her some small solo roles (the Bird in Adolph Bolm's Peter and the Wolf, was her first important role), but her performance of Hagar in Antony Tudor's Pillar of Fire (1942) raised her to the rank of Ballerina. She danced both dramatic and classic roles with Ballet Theatre. In addition to Pillar of Fire, Kaye danced the Russian Ballerina in Tudor's Gala Performance, Michael Kidd's On Stage, Balanchine's Waltz Academy, Simon Semenoff's Gift of the Magi, Jerome Robbins's Facsimile, the Queen of the Willis in Giselle, Aurora in Aurora's Wedding, Odette/Odile in Swan Lake, and Pas de Quatre. She is best remembered for her work with Tudor in Romeo and Juliet, Lilac Garden, and Dark Elegies, as well as Pillar of Fire, and as Lizzie Borden in Agnes deMille's Fall River Legend. These performances earned Kaye the title of "The Duse of the Dance."
Kaye left Ballet Theatre in 1951 and joined the New York City Ballet along with Tudor, Hugh Laing and Diana Adams. Among the roles she created there were the leads in Robbins's The Cage and Tudor's La Gloire. She returned to Ballet Theatre in 1954 and remained with them until 1959.
Kaye's first marriage to Isaac Stern in November 1948, ended in divorce. She later married Herbert Ross in August 1959 and together they founded the Ballet of Two Worlds in 1960. Kaye assisted Ross in many of his movies and Broadway musicals.
In 1977 she rejoined American Ballet Theatre, as a member of the Board of Directors, and remained until her death ten years later.
(First published February 1999)