Tamara Platonovna Karsavina (1885-1978)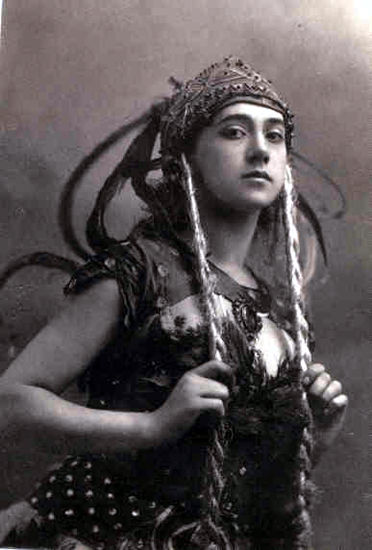 Tamara Karsavina, one of the greatest dancers of the Ballets Russes of Serge Diaghilev was born in St. Petersburg on March 10, 1885, the daughter of dancer Platon Karsavin. Tamara became a legend in her own life time. Her technical perfection, wit, rare intelligence, and deep feeling made her a prima ballerina for all times.
Karsavina graduated from St. Petersburg's Imperial Ballet School in 1902 and immediately entered the Maryinsky Ballet as a soloist. From 1909 to 1918 she was given starring roles with the rank of Ballerina. She was a ballerina with Diaghilev's Ballets Russes from its beginnings in 1909.
Karsavina divided her time between the Maryinsky Theatre and the Diaghilev Ballets Russes. She was a frequent partner of Vaslav Nijinsky, and we associate their partnership with many well known ballets, such as Mikhail Fokine's Le Spectre de la Rose.
Karsavina championed Mikhail Fokine's ideas of expressive dance. She danced in his Les Sylphides, 1909, Carnaval and The Firebird 1910, and Le Spectre de la Rose and Petrushka, 1911. Her performance as the doll in Petrushka has been considered the definitive interpretation.
During World War I and the 1917 Russian Revolution she continued to dance in Russia. After her marriage, to a British diplomat Henry J. Bruce, she and her husband fled to London in 1919. Karsavina returned to Diaghilev's Ballets Russes in 1919 to star in Leonide Massine's Le Tricorne, and in 1926 she returned to dance in Bronislava Nijinska's and George Balanchine's Romeo and Juliet. During the early 1930s she gave guest performances with BALLET RAMBERT (founded by Dame Marie Rambert).
Tamara Karsavina was associated for many years with Great Britains' Royal Academy of Dancing, from the time it received its charter in 1936.
Margot Fonteyn and other ballerinas were coached by Karsavina in many of the classical roles that she had created for the Diaghilev Ballets Russes.
She died in London May 26, 1978 at the age of 93.
(First published January 1995)