Maria Karnilova (1920 - 2001)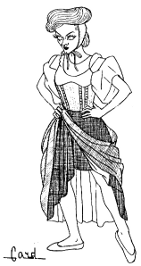 Maria Karnilova's real name was Maria Kasnilovich; she was born in Hartford, Connecticut in 1920. After high school she came to New York City to study at the Metropolitan Opera Ballet School. She also studied with Alexandrova Fedorova, sister-in-law of Mikhail Fokine and mother of Leon and Irine Fokine.
Karnilova was closely associated with Jerome Robbins, dancing in Robbins' Ballet U.S.A. She won a Tony award for her creation of the role of Golde in Robbins' Fiddler On the Roof, and in Gypsy she played the stripper Tessie Tura. Maria made numerous appearances in other shows and dance companies.
She was married to actor George Irving from 1948 to the end of her life.
(First published June 1999)