Mikhail Fokine (1880-1942)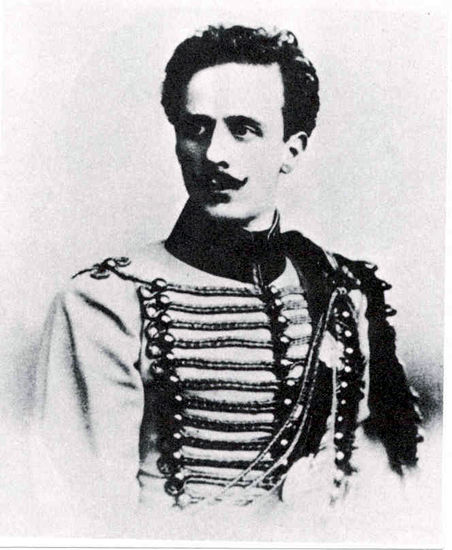 Mikhail Fokine is probably the best known choreographer of the 20th century. His ballets are still in the repertoire of most ballet companies. His staging of his Les Sylphides has been restored to American Ballet Theatre by Sallie Wilson. In my opinion it is a perfect ballet. Fokine originally choreographed Chopiniana (later renamed Les Sylphides) for a performance outside the Maryinsky in 1907, while still a dancer with the Maryinsky company.
Mikhail was born in St. Petersburg April 25, 1880 and studied at the Imperial School, graduated at the age of 18 and entered the Maryinsky Theatre. He was promoted to soloist in 1904. He started teaching at the Imperial School in 1902, and choreographed his first ballet Acia and Galatea in 1905, for a student performance. A year earlier he had submitted a scenario for Daphnis and Chloe to the authorities, expressing his ideas that more attention should be paid to the integration of story, music, scenic design and choreography. In 1907 he created The Dying Swan for Anna Pavlova, which became her most famous solo. The first ballet Fokine choreographed for the Maryinsky Theatre was Le Pavillon d'Armide, and this ballet was also in the repertoire of the first season of the Diaghlev's Ballets Russes, in Paris in 1909. He became Diaghlev's chief choreographer, although, he continued to dance in Russia until 1918.
Fokine was a strong dancer, but he will be remembered most for his great contribution in changing ballet. His ideas and changes were comparable to those of Jean-Georges Noverre and Salvatore Viganò, and he paved the way for Antony Tudor.
Fokine left the Ballets Russes in 1912 because he was jealous that Diaghilev was favoring Vaslav Nijinsky's choreography. He pursued a career as a freelance artist, working mostly in Scandinavia until he settled in the United States in 1923. He took many trips to revive the successes he had created for Diaghilev's Ballets Russes. Mikhail restaged his Les Sylphides for Ballet Theatre's first performance in 1940 at New York's Center Theatre.
Fokine married Vera Antonovna, and their son Vitale, became a teacher in New York City. Many members of his family are still involved with dance in America.
Some of the most famous of his 60 ballets are:
Le Pavillon d'Armide
Polovtsian Dances
Les Sylphides
Cléopâtre
Le Carnival
Sheherazade
Firebird
Spectre de la Rose
Petrushka
Papillons
The Golden Cockerel
Fokine's formula for choreography:
Not to make combinations of ready made steps
Dancing serves as an expression of its dramatic action
Dancers can and should be expressive from head to foot
All the arts should have complete equality
(First published January 1995)