Frederic Franklin (1914-2013)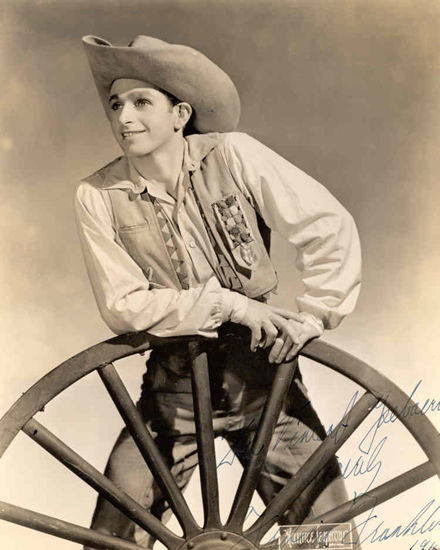 Frederic Franklin has been my idol since the first time I saw him dance in 1940. To write about him is almost impossible for me, because this man can do no wrong in my eyes. But I will try to be objective about him. At the age of 90, he was named Commander of the Order of the British Empire. He is sharp as a tack and has total recall. We are lucky that he is still re-setting ballets he danced 60 years ago.
Frederic Franklin was born in Liverpool, England, in 1914, and his interest in the theater started when his family took him to see Peter Pan. When he got home he jumped on his bed trying to fly. To get him out of the way his mother took him to Mrs. Kelly's dancing school. Mrs. Kelly told Frederic's mother that he was gifted and gave him a scholarship. Later he went to another teacher that would whack students with a cane. At the age of ten he took two years off to do what other boys that age were doing.
In 1929 Diaghilev's Ballets Russes came to Liverpool. He was impressed with Alexandra Danilova, Serge Lifar and Leon Woizikovsky. Franklin fell in love with Danilova and hung her picture over his bed. When he went to London he continued to study with Lydia Kyasht, a former dancer from the Maryinsky. She had toured with Diaghilev's Ballets Russes in the United States. Franklin also studied with Nicolai Legat, and in Paris he had classes with Lubov Egorova, and his hero, Anton Dolin.
Franklin made his debut at Casino de Paris, in a show starring Josephine Baker, in 1931. Back in London he danced in music halls, cabarets and any place he could make some money. In 1935 his big break came when he joined the Markova-Dolin Ballet Company. Literally, he has never been out of the dance world since then.
Franklin joined the Ballet Russe de Monte Carlo as premier danseur at the request of Leonide Massine in 1938, becoming ballet master in 1944. He has partnered every great ballerina: Alexandra Danilova, Alicia Markova, Mia Slavenska, Tamara Toumanova, Irina Baronova, Moira Shearer, Yvette Chauviré, Rosella Hightower, Maria Tallchief, Alicia Alonzo and many more. While with the Ballet Russe de Monte Carlo, Franklin danced 45 principal roles -- from pure classical to many character roles, such as the champion roper in Agnes de Mille's Rodeo.
Freddie continued his classes with such teachers as Alexandra Fedorova, Felia Doubrovska and as he has said, "that terrible stern taskmaster, Anatole Oboukhoff; they all were killers."
As a teacher he tells his students, "It's wonderful. You come to class, you get dressed and go home. Stay behind and work. It's what you do for yourself after the teacher has taught you."
It was like a dream come true when he first partnered Danilova, the ballerina he had seen dance with the Ballets Russes and had fallen in love with. Every night before falling asleep he saw her picture over his bed. Danilova said to him, "Young man, if you are going to dance with me, you must know where my curves are." During the rehearsal she said, "Young man, I'll hook on to you." Franklin told me, "No matter what we were doing Danilova would drape herself around me and hook. And we were fine."
In 1952 Franklin and ballerina Mia Slavenska formed the Slavenska-Franklin Ballet Company. They invited Valerie Bettis to choreograph a ballet based on the successful Broadway Show A Streetcar Named Desire. This ballet became one of the most important works to come out of this union.
Working with George Balanchine, Franklin says, " In those days, Balanchine was more concerned with the acting. When I danced his ballets like Baiser de la Fille, it required a lot of acting. Later in his career Mr. 'B' would say, 'Don't bother about the acting. Just listen to the music and dance.' All his steps came out of him through the music. The music was terribly important to him. He didn't want any expression. The dancing was enough. That was Balanchine."
In talking about other choreographers Freddie quotes Bronislava Nijinska as saying, "Good dancer, I make Russian dancer out of Franklin -- he good boy."
Frederick Ashton told him, "Freddie, now listen, stop the mannerisms. Don't dance like Anton Dolin. Be yourself. Don't dance like this one -- don't dance like that one. Just dance like yourself." When I saw Frederic Franklin dance he was dancing like himself.
Mr. Franklin's feelings on the current state of dance is one I share. He said, "The Ballet needs choreographers. Can you name a major American choreographer? I can't. I believe the future of companies and dancers depends on new works and first-rate choreographers. The Royal Ballet just did a new production of Sleeping Beauty. How many times can you see La Bayadere or Swan Lake. That's all they do. They're in a mess, too."
"In the past, Massine would do four ballets a year. Nijinska would do two or three. Look at Mr. 'B.' Ballets came out of him like sausages. It's regrettable because there are wonderful dancers capable of doing all kinds of things. They're crying out for roles."
When Franklin is asked why he doesn't retire -- his answer is, "On what?" He said, "As long as people want me to stage works and teach classes, I'll do it. I don't think I'll ever really stop."
Franklin passed away in Manhattan on May 4, 2013 at the age of 98. He was survived by his partner of 48 years, William Haywood Ausman; a brother, John; a niece, Pamela Hayes Brookfield; and his nephews, John, Tim and Peter Franklin and Neil Hayes.
Editor's note: Much of the above information came from an interview by Larry Stevens for Dance and The Arts.
A Meeting With Frederic Franklin
I had a chance meeting with Freceric Franklin on the 86th street cross-town bus. I enjoyed hearing him tell stories of his early days as a dancer with The Markova-Dolin Company and as the premiere danseur of the Ballet Russe de Monte Carlo. It was with the Ballet Russe that I first saw him dance. I was just 15 years old, in need of a hero, and Mr. Franklin became it.
How did a boy living in Oklahoma City get to see the Ballet Russe? None of my friends had ever been to the ballet, but I had the good fortune to have a divorced aunt, who needed an escort to the cultural events that infrequently played our city. My aunt made sure I was a good ballroom dancer so I could be her dance partner when the Big Name Bands played our area. She was responsible for my brother and I studying ballroom dance at a very early age. I was delighted and proud to be with her because she was interested in me as a person and she backed every project I undertook. Trying to bring culture to my family was a full-time job, and while she was very successful with her nieces, I think I was her only success among her nephews.
In 1940 the war in Europe was beginning to threaten America and many of the older boys began to enlist. Because of the war there were fewer and fewer cultural events for us to enjoy, so when the Ballet Russe first came to Oklahoma, I was sitting in the audience spellbound by what I saw on stage. I loved the music, the movement, the pattern, and costumes. As I watched Mr. Franklin with his princely demeanor dance with Alexandra Danilova, I knew dance was what I wanted to do. Frederic Franklin was the first male ballet dancer whom I had ever seen, of course, I had been to Fred Astaire and Gene Kelly movies, and I enjoyed them, but the Hollywood musicals did not inspire me to become a dancer.
The very next day I called the local teacher to take lessons, but because there were no other boys in her school she would not take me. Years later when I was dancing with the San Francisco Ballet, she came to take a summer course and I told her that she had refused me as a student; she replied that she didn't know how to teach boys. I didn't tell her how disappointed I was, and I thought I had no choice but to give up the idea of ever dancing. After my dream of becoming a ballet dancer was shattered, I turned my interest to art and theater. I also worked hard to be the best ballroom dancer in high school.
Many years later when I was a soldier working for Special Service in Japan, I had the chance to befriend many USO performers. I was the director of Club Ichiban, the largest enlisted men's club in the Pacific theater, Barbara, one of the USO performers, wanted to use the ballroom at the club to give herself class. I told her she could if she let me try it with her. She taught me some positions and steps. When she asked me to point and my foot stretched to a better point than many professional dancers and when she told me to turn and I did on the correct foot and in the proper direction--she was flabbergasted by how quickly I could pick up movement. She was so impressed that she taught me some routines which we performed at the club. I had studied theater in Oklahoma and had done some plays--in fact in the State of Oklahoma I had won first place in a competition for humorist reading--so I was not new to an audience. One might think that the men I served with would not appreciate my dancing, but they cheered me on and made sure to know when I would performed again so they could be there. Many of the servicemen were starved for entertainment. They were curious enough to asked if I had been a professional before my induction.
Barbara was as supportive as my aunt and encouraged me to give dancing a try when I got my discharge. She even wrote her dance friends in San Francisco and told them to expect me. After three lessons with Barbara's teacher, I was asked to dance with her group. It was with this group that I danced on the same program as Ruth St. Denis. I soon started my studies at the San Francisco Ballet School. I picked up so quickly and had such a flexible body, that within six months I was invited into the company. At last my dreams were coming true and Mr. Franklin was responsible for starting them.
When Ballet Russe was performing at the San Francisco Opera House, starring Mr. Franklin and Alexandra Danilova, I never missed a performance. I knew more about ballet by then and I still thought they were the definitive dancers of that time. Their Giselle was one of technique and drama. It took many years before I saw another production of that ballet that could compare.
One day when I was on my way to class, I saw Mr. Franklin window shopping, and like a small puppy I followed him for blocks. After this incident in San Francisco, it was Mr. Franklin on stage and me in the audience. Decades have past, and after performing in a ballet company, stock, night clubs, TV, operating a successful school in Brooklyn, being assistant director of the Bat Dor Company in Israel, and teaching at the High School of the Performing Arts, Harkness Dance Center and the New York School of Ballet, I finally had a chance to meet Mr. Franklin. And today on the cross-town bus, 45 years later, I finally told him of his influence on my life. He looked at me and was pleased by what he heard, but I knew many other dancers had told him the same thing. Sitting here at 67 and feeling like I was 15--WOW!
One day when Christine Sarry was taking my class, I looked up to see Mr. Franklin standing at the door. My voice just ceased to work. I tried to get my mind back on the class, but my eyes kept going back to the doorway. After class Christine Sarry introduced me to Mr. Franklin, who was there to coach her in a role. He told me that he enjoyed watching me teach. I thanked him, hoping that he didn't hear my heart beat. I wondered, if Mr. Franklin was aware that he was responsible for my being a ballet teacher.
"Here we are at Broadway, the last stop." Mr. Franklin's voice brought me out of my daydream. "Good-bye, Dick. I hope to see you again soon." He is calling me by my first name, I thought. "Good-bye, Mr. Franklin!"
(First published January 1998)