Vladimir Dokoudovsky (1919 - 1998)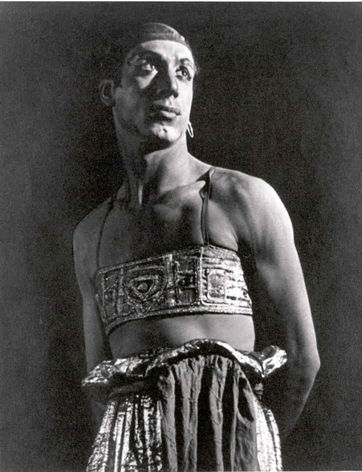 When dancers talk about "The Duke" they are not referring to John Wayne, but to Vladimir Dokoudovsky, respected dancer, and teacher for fifty years in New York City.
The Duke was born May 13, 1919 in Monte Carlo, of Russian parents. While very young, Vladimir's family moved to Paris. As a young child The Duke was anemic and his doctors recommended physical exercise. He was sent to what we might call a boy scout camp, where he was involved in a lot of athletic activities, including boxing. After a year he had not improved and he returned to Paris. The Duke loved music and always wanted to play the piano, but he was involved in an accident that severed a tendon in one of his fingers. At that time there was no way to repair the damage, so that was the end of his dream to become a world-class pianist.
Dokoudovsky's grandmother was a very close friend and distant relative of the famous ballerina and teacher, Olga Preobrajenska. Preobrajenska was one of the great ballet teachers at the Paris school "Studio Wacker," at 69 rue de Douai. His doctor knew The Duke's mother loved dancing and he thought her son's love of music and need for exercise could both be satisfied if the young boy took ballet classes. At the age of nine The Duke was enrolled with Preobrajenska. Being the only boy in the class, he hated ballet. The nine-year-old boy had no real idea why he had to work so hard. The cost of seeing the few ballet performances that were available far exceeded the means of the Dokoudovsky family. He remained a student of the great ballerina until 1934, when Dokoudovsky won first place in the first dance competition in Paris "Concours International de la Danse." Here he had the opportunity to learn that ballet was theater and that he loved it. (He still thinks of ballet essentially as theater.)
The Duke had an inquisitive mind and wanted to know how things worked. He would take watches apart to see their mechanism. He applied the same approach to his dancing. He would take every dance phrase apart to the smallest detail, and reassemble it to his satisfaction. I am sure this is one of the reasons that The Duke is one of America's most renowned teachers.
It always pleases me when dancers give credit to their teachers. The Duke proudly gives recognition to Bronislava Nijinska, Lubov Tchernicheva, George Balanchine, Anatol Vilzak, Ludmila Shollar, Pierre Vladimiroff, Anatol Oboukhov, and Mikhail Mordkin.
Dokoudovsky's performing career spanned the years from 1934 to 1950, in companies including Opera de Monte Carlo, Ballet Russe de l'Opera Comique de Paris, National Polish Ballet, Monte Carlo Ballet Russe (under the direction of Leonide Massine), Mordkin Ballet, Ballet Theatre, de Basil's Original Ballet Russe, Ballet Russe de Monte Carlo and the Danish Royal Ballet. He also choreographed and re-staged many ballets for these companies. The Duke danced in the films of Graduation Ball and Swan Lake, and also in a ballet sequence in The Revolt of the Phantom. His television credits include Toast of the Town with Renée Jeanmaire, Gaité Parisienne, and Agnes de Mille's History of Ballet, on Omnibus.
The Duke was married to Nina Stroganova and were considered a team equal to that of Fred Astaire and Ginger Rogers of the classical ballet. They finally divorced, but remained partners as teacher at Ballet Arts and New York Conservatory of Dance.
The Duke started teaching very early, instructing beginner and intermediate students for Olga Preobrajenska in 1934. Because of severe arthritis he was forced to retire from performing in 1950. He, like Carlo Blasis, wanted to quit dance before dance quit him. The Duke taught at Ballet Arts Studio "61" from 1947 to 1977, simultaneously giving classes at Ballet Theatre School, American Ballet Theatre, and Ballet Arts in Tokyo. In 1977, with his wife Patricia Heyes he opened "New York Conservatory of Dance" at 56th Street and Broadway. His school moved to 30 East 31st Street in 1987. In 1996 he received the Vaslav Nijinsky Medal, which was presented to him by the Polish consulate.
(First published October 1997)