Anton Dolin (1904-1983)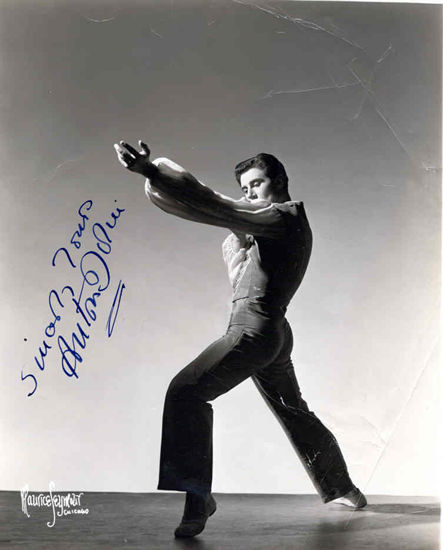 When I first met Anton Dolin, I was backstage at the Sadler's Wells Theatre in London. I was there as assistant director of Israel's Bat Dor Dance Company, and thrilled to be in the legendary theater and to meet the legendary Mr. Dolin. I had known about this man ever since I became interested in ballet.
Dolin was born Sydney Francis Patrick Chippendall Healey-Kay in Slinfold, England. He started his ballet studies in Brighton with Serafina Astafieva and Bronislava Nijinska. He worked as a child actor and when Serge Diaghilev produced The Sleeping Princess in London in 1921, Dolin, under the name of Patrikief, was hired as a member of the corps de ballet. At this time Russia did not let their dancers emigrate to the West, so Diaghilev was forced to hire dancers from many countries and give them Russian names.
After The Sleeping Princes Dolin left the company only to rejoin the Ballets Russes in 1924 and was immediately promoted to soloist. He created roles in Nijinska's Le Train bleu in 1924, and Balanchine's The Prodigal Son and Le Bal, both in 1929. Dolin became one of Diaghilev's lovers, in competition with Serge Lifar and Boris Kochno, Diaghilev's secretary and librettist. Kochno accepted the situation and turned a blind eye to Diaghilev's other amours. It would be impossible to write about the male stars of the Ballets Russes without revealing that many of them were lovers of the great impresario. The competition between Dolin and Lifar lasted until Dolin left to form his own company with Vera Nemtchinova in 1927. During the brief existence of the Dolin-Nemtchinova company he choreographed Gershwin's Rhapsody in Blue and Chopin's Revolutionary Etude.
Dolin returned to Diaghilev's company in late 1927 and remained until Diaghilev's death in 1929. He then choreographed a number of musical revues and became co-founder of the Camargo Society in 1930. The Camargo Society was founded in London to further the cause of ballet. Dolin created the role of Satan in Ninette de Valois' Job in 1931, and during that same year he joined the Vic-Wells Ballet (later called Sadler's Wells and then The Royal Ballet).
Dolin became the first premier danseur with Ballet Theatre (now American Ballet Theatre) in 1940. For Ballet Theatre he restaged Swan Lake, Giselle, Princess Aurora, and choreographed Quintet, Pas de Quatre, Capriccioso, and Romantic Age. In 1935 Dolin and Alicia Markova founded the Markova-Dolin company which performed until 1938, and was reorganized in 1945.
Anton Dolin danced and choreographed for most of the major ballet companies in the West. Dolin was knighted in 1981 and was involved in ballet until he died in Paris on November 25, 1983.
(First published May 1996)