Agnes de Mille (1909 - 1993)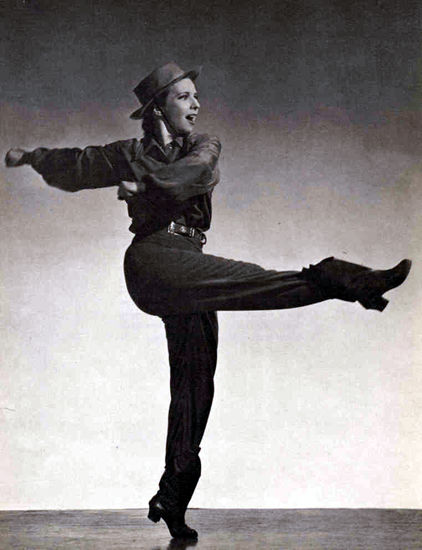 Agnes de Mille will always be remembered for her contribution to the Broadway Stage, but in reality she first became famous as a concert dancer. Agnes de Mille was there in the beginning of Ballet Theatre, later called American Ballet Theatre.
She was the daughter of William C. de Mille and the niece of the famous Hollywood director Cecil B. de Mille. She was literally born with the proverbial silver spoon in her mouth. Ms. De Mille could never be accused of using these contacts to further her career.
Ms. De Mille received her higher education from the University of Southern California. In California she studied dance with Theodore Kosloff and in England with Marie Rambert in whose company she danced in many of Antony Tudor's early ballets. She appeared in a few English musicals. Agnes also did a series of solo concert tours on the continent, and also in Tudor's own company Dance Theatre. She was an original member of Morkin Ballet, in 1939 called Ballet Theatre. De Mille encouraged Lucia Chase to hire Tudor as a dancer and choreographer.
Her first major ballet for Ballet Theatre was Black Ritual with an all African American cast (1940). For Ballet Theatre Agnes de Mille choreographed Virgin and a Devil(1941), Fall River Legend(1948), The Harvest According(1952), The Four Marys(1965), and a Rose for Miss Emily(1970). For the Ballet Russe de Monte Carlo she choreographed Rodeo (1942) that later became part of Ballet Theatre repertoire.
On Broadway she credited with changing ballet in musical theater. Her first success was Oklahoma followed by Carousel, Gentlemen Prefers Blonde, Paint Your Wagon, and 110 in the Shade. There were other shows that were not as successful. Ms. De Mille was a prolific writer: Dance to the Piper, And Promenade Home, To a Young Dancer, and The Book of Dance. She also wrote for many publications.
Agnes de Mille won many awards: Dance Magazine Award, Capezio Award, J. Gale, "Spirit of 76. The A.d.M. Heritage Dance Theatre. She was awarded the Kennedy Honors in 1980.
While giving a lecture at Hunter College She had a stroke. She had a difficult time regaining her speech and brain function, but she continued to work until her death.
Personally, I don't think I appreciated her work until I was older, but now I see we have had nothing to replace her. I miss her choreography.