Leon Danielian (1920-1997)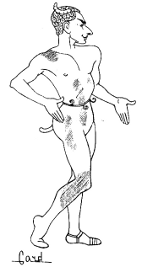 Danielian was born in New York City on October 31, 1920. After finishing high school, he took ballet to strengthen his body following an illness. His first teacher was Mikhail Mordkin and later Mikhail Fokine, Antony Tudor and Anton Dolin. He made his dance debut in 1937 with the Mordkin Ballet.
He also danced on Broadway and from 1939 to 1941 he was a soloist with Ballet Theatre, but he left Ballet Theatre to be premier danseur of the Ballet Russe de Monte Carlo. He would also make guest appearances with many other companies. In 1968 Danielian became director of the American Ballet Theatre School -- remaining until it closed in 1980. He was also a guest teacher in Rochester, New York and was the assistant dean of dance at Purchase State University in New York. When Igor Youskevitch left the University of Texas, Danelian took his place.
(First published June 1999)