Alexandra (Choura) Danilova (1904-1997)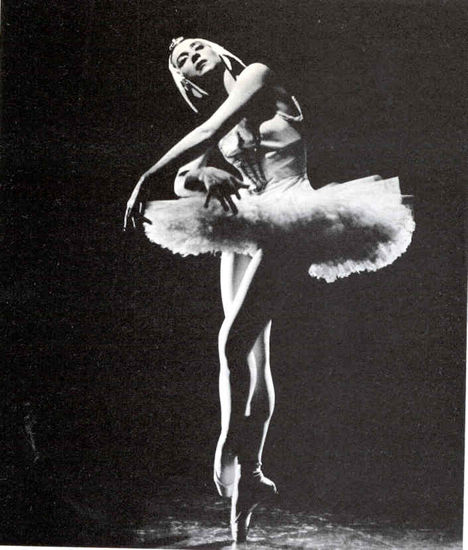 Like me, you are too young to have seen Anna Pavlova, the great ballerina who popularized ballet in America. Many years passed before another ballerina again took America by storm. As a young teenager I had the privilege of seeing my first ballet with Alexandra Danilova partnered by Frederic Franklin. By the time I saw Danilova her career at the Maryinsky Theatre and as one of Serge Diaghilev's last ballerinas was far behind her.
Danilova was trained at the Imperial School in St. Petersburg and upon her graduation she entered the corps de ballet of the Soviet State Ballet at the Maryinsky Theatre. While at the Imperial School she was a classmate of George Balanchine and Nicholas Efimov. Danilova and her classmates danced in Balanchine's experimental ballets until they were threatened by the Maryinsky Theatre with dismissal if they continued to do so. Balanchine had already been fired from the ballet company.
Danilova, like Tamara Geva, Efimov, and Balanchine, left Russia with the Soviet State Dancers, a company formed by Vladimir Dimitriev. The company performed in Berlin during their vacation from the Maryinsky and were scheduled to return after their tour. They defected and never returned to Russia. From Berlin they went to London, but were not well received there. Fortuitously, Serge Diaghilev sent for them to audition for his Ballets Russes. Danilova tells the story that after Balanchine and Geva did a pas de deux choreographed by Balanchine, Diaghilev was very impressed by Balanchine's creative ability. Then Danilova was asked to audition but she told Diaghilev, "If I am good enough for the Maryinsky then I am good enough for you." Without further ado Danilova signed a contract, and eventually became one of the last ballerinas of the Ballets Russes.
After Balanchine divorced Geva he "unofficially" married Danilova. Dimitriev always lived with them. Balanchine and Danilova would pool their money and divide it equally among the two of them and Dimitriev. Danilova wanted Dimitriev out because he didn't contribute to the pool, but Balanchine said that they were indebted to him for getting them out of Russia.
When Diaghilev died in 1929 his famous Ballets Russes disbanded, leaving all the dancers to fend for themselves. Efimov became the premier danseur at the Paris Opera and Balanchine found work as a choreographer, but Danilova was stranded. "With Diaghilev's death, the ground collapsed beneath my feet. It seemed that I didn't belong anywhere. I felt suddenly very small and insignificant. Maybe I should go back to Soviet Russia, I thought." she said in Choura, her autobiography, published in 1988.
I would like to interject at this time that a number of ballet companies sprang up using the name "Ballet Russe" and using Diaghilev's choreography and dancers. In the future I will try to explain these companies. Know that many of the dancers and choreographers would work with all of these companies.
Balanchine became choreographer of Rene Blum's Ballet Russe and told Danilova that she was too old for this new company -- she was 28. Finally Danilova got a job in an operetta, Waltzes From Vienna, where she danced the last big waltz, Le Beau Danube (not to be confused with Leonide Massine's Beau Danube). This show ran over a year and she managed to save a little money. She married her first husband but unfortunately Danilova and her husband lost all their money. She was destitute when Massine offered her a job with Colonel de Basil's Ballet Russe. When she told Balanchine of her new employment, he said it couldn't be and that he wouldn't have it, but it turned out that Balanchine was out and Massine was in. Balanchine had been fired.
Danilova had to compete with Blanchine's "Baby Ballerinas:" Tamara Toumanova (13 years old), Tatiana Riabouchinska (15 years old), and Irina Baronova (12 years old). She held her own and certain theaters wouldn't book the Ballet Russe without Danilova.
Although Danilova married a number of times, none of the marriages lasted because she always put her career first. When I think of Danilova I also think of Frederic Franklin, but in reality their association wasn't the main part of either of their careers.
Danilova was never good at handling her finances, especially since even great stars during this period were not well paid. She was desperate when she again met Balanchine on the street in 1964. When he heard of her plight he instantly hired her to teach at the School of American Ballet. One of the most valued members of the faculty, she remained there until her retirement in 1989. In 1989 Danilova was one of the recipients of the Kennedy Center Honors.
Choura will be truly missed.
(First published October 1996)