Creating an Info Summary App in ArcGIS Online
This tutorial demonstrates how to create an info summary web app in ArcGIS Online. Info summary apps provide a panel of containing a summary of information about features. While this simple example shows information on churches, the same style of app could be used for providing information to the public on business locations or government offices.
Example Map
To create an info summary app, you first need to create a web map.
This example uses an existing web map of FedEx locations in Urbana-Champaign, IL. The CSV data file for this map is here. Map creation is described in the tutorial Basic Mapping With ArcGIS Online.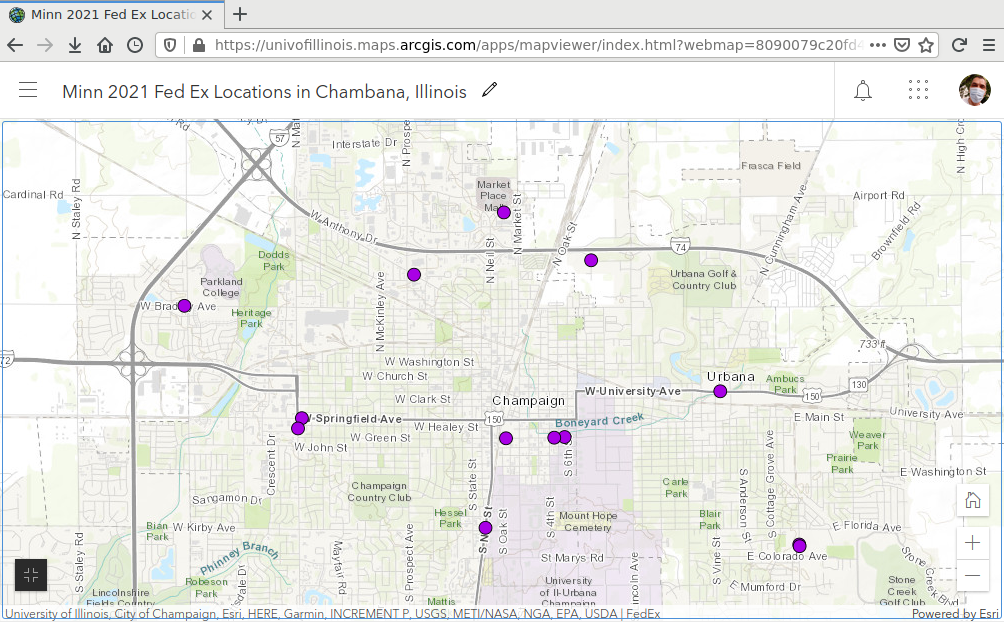 Create the App
On your ArcGIS Online Content page, select Create and Web App Builder.
Give the app a meaningful Name and provide Tags that will help people find your app.
For the Theme, select the Jewelry Box Theme (0:33)
For the Map, choose a map as described above (0:36).
For the Widget, click the Widget icon and and choose Info Summary (0:47).
Under the options, select Expand List on Startup and Show All Features.
Select Add layer so this widget gets its data from the only layer on the map.
Change the Label if it is too long or needs to be more descriptive.
Edit Display Options and under Panel, select the fields to display.
For the Attribute, adjust the logo and subtitle as needed (1:47).
Save the app.
Preview to test on mobile devices.
Launch to test the app and get a URL to the app from the location bar.