The Chicago Ballet
The San Francisco Ballet is often called as the first ballet company in America. I think it has that honor because once it was established it never changed its name or locale. In truth, the Chicago Opera Ballet was established in 1910. The same men who started the San Francisco Ballet were in Chicago first.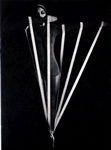 The history of the Chicago Ballet is really the history of Ruth Page. Nothing happened in dance that did not include Ms. Page. She has always been involved as a dancer or promoter. She was born in 1905, and is still active with ballet. Ruth Page studied with Cecchetti, toured with Pavlova before joining Diaghilev's Ballet Russe, in 1925, and danced with the Metropolitan Opera Ballet 1926-1928. Ms. Page toured with Harald Kreutzberg, a German pioneer of modern dance. Her partnership with Bentley Stone and Walter Camryn brought them to national attention with the ballet Frankie and Johnie, danced by Ballet Russe de Monte Carlo in the 40's. I saw Ms. Page and Mr. Stone dance this ballet.
Chicago, from the early 40's to the late 50's, produced some of the best dance teachers in America: Bernice Holmes, Edna McRae, Richard Ellis, along with Stone and Camryn for ballet, and Shearer and Katherine Dunham in modern. In recent years there has been a company, but as I said in the last Newsletter, outsiders have put it on hold. Oh, how I wish we would learn to hang onto our own.
(First published July 1989)