About This Site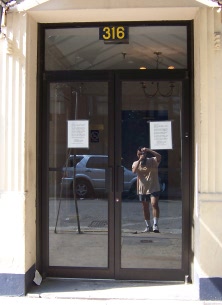 This site contains photographs of a number of areas in New York City that I took while I lived there from 1991 to 2010. While a few are historic, most were taken between the Fall of 2001 and the Summer of 2010.
The idea for this collection began on a summer afternoon in 1997 in when I was discussing the parks of New York a family friend in Louisiana. His image of a park was a remote recreational area and he had no concept of anything like Central Park. He (and most non-New Yorkers - including myself before my transplantation) had an image of New York as the canyons of steel and concrete typified by the Empire State Building and it's midtown environs and he was unaware of the city's remarkable topographical and architectural diversity or the distinct look and character of each neighborhood. I purchased a couple of disposable cameras and began photographing some of more verdant (and less well-known) parts of New York, with the objective of showing my Louisiana friend a different side of New York City.
In 2001, I published those 1997 photos as a web design project. After purchasing my first digital camera in the fall of 2001, I began adding photos on a semi-regular basis, and growth became exponential after a period of unemployment in 2005 that yielded the section on Manhattan bridges. This extremely photogenic city presents an almost unparalleled variety of scenes for the eager urban explorer.
While this collection is in no way an exhaustive exploration of the daily life or infinite variety of the city, it is a view of things that are not often seen by those whose only exposure is Law and Order or a brief summer vacation. It is my hope that the images and commentary can convey at least a bit of the awe and wonder I have felt in having the privilege to have lived in this remarkable urban area.
Tech
Most images were captured using a variety of point-and-shoot digital cameras, including:
Kodak DX3500
Kodak DX6340
Kodak C875
Nikon Coolpix L22
Nikon Coolpix L24
Canon PowerShot A1300
Canon PowerShot A1400
Samsung GT-S6310L
Image processing and thumbnail creation was usually performed with The GIMP and the Netpbm toolkit - running under Linux.
Legal
If you have an interest in using these photos for anything outside of fair use, please e-mail me at the address above. I'm generally open to non-commercial use for free, although I'd appreciate it if you talk to me first. And if you're going to make any money with them, it seems only fair that we work out some way so you can share the love.
The materials distributed on this site are the property of Michael Minn or their respective copyright holders and are protected under the copyright laws of the United States and other international jurisdictions. These materials are for personal, non-commercial use only. Any unauthorized use will subject the offender to civil and criminal liability under applicable federal, state,and international laws and treaties. Michael Minn and/or the respective copyright holders specifically reserve and retain all rights which they have in any data, files and/or images, soundbites and video clips made available under this service.
By accessing this site, the user specifically acknowledges that Michael Minn is not liable for any loss or damage caused by or arising out of any use of this on-line service including, but not limited to interrupted or error-free service, viruses or any other potential problems that may arise from use of this site.