Energy Use in American Food Production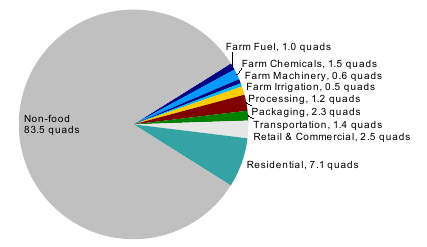 Dale Pfeiffer (2006, 29) opens the fifth chapter of his book Eating Fossil Fuels with the statement, Current civilization is founded upon an abundance of cheap energy derived from hydrocarbons. He presents the natural extension of that premise to food production in the opening of his sixth chapter, Modern industrial agriculture is unsustainable. It has been pushed to the limit and is in danger of collapse (Pfeiffer 2006, 39). The infrastructure and inputs used to supply Americans with their expected bounty of food are indeed highly dependent on fossil fuel energy sources in every aspect of food production, processing, distribution, preparation and preservation. Given the complex issues surrounding the security and availability of fossil fuels in the future, the thoughtful reaction to Pfeiffer's statements should certainly be one of deep concern and, perhaps, even fear for ourselves, our children and our civilization.

However, energy use by Americans for food only constitutes 12% to 17% of total current American energy usage. Given the overriding importance of food for daily existence and the integral role that food plays in human social life, it is not unreasonable to believe that present and future generations would accept a significant increase in that now-small share of energy in order to preserve essential portions of our reliable, diversified and mechanized food production and distribution system during and after a transition to renewable energy sources. Diets and food practices may undergo changes and other optional items in current American life may face reductions in availability, such as cheap imported plastic goods and expansive, inefficient single-family homes on large suburban plots. However, issues surrounding land, water and mineral resources as well as problems caused by environmental degradation, climate change and population growth will probably be considerably more disruptive to the American food system than the replacement of fossil fuels with renewables. Concerns for the environment have given rise to an increased attention to carbon emissions and a cottage industry has developed for determining and promoting the "carbon footprints" or "food miles" of various products. However, the complexity of the American food production and distribution system makes realistic calculation of such values for specific products more of an exercise in philosophy than one of science. And a focus on individual products and isolated shopping decisions can lull activists into a false sense of satisfaction that distracts from the larger issues we can only address collectively as a country. While carbon is a serious problem, it is merely a symptom of a more serious disease involving the profligate use of cheap fossil fuels in short-sighted and unsustainable agricultural and development practices.

This paper will present an overview of how energy is used in the current American food system in the context of total American energy usage. Because the issues surrounding energy are well beyond the scope of individual initiatives, taking a big-picture view permits identification of the areas where energy use is most vital and the areas that should be candidates for modification if energy becomes more expensive and less available. With this perspective, it is hoped that some of the fear can be removed from consideration of food issues and replaced with a rational context for developing the constructive ideas and public policies that will be needed to pass on a more perfect union to the generations that follow us.