About The Louis Armstrong Discography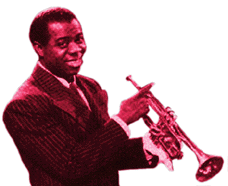 This online discography was begun in 1996 by Scott Johnson, a musician and graphic artist who became enamored with Armstrong's music in the mid-1980s but lamented the absence of comprehensive and readily available discographic information for Armstrong. Much of the material came from CD liner notes, Hans Westerberg's rare 1981 published discography The Boy from New Orleans, and from user comments.
With the publication of Jos Willem's definitive Armstrong discography in 2006, Johnson felt the site had served its purpose and was taken down. However, I recognized that there was still some value in having an online Armstrong resource and offered to adopt the site in early 2007, posting it on my personal website. The site was upgraded from static HTML to XML/CSS/PHP and relaunched in May, 2007
Bibliography
All of Me: The Complete Discography of Louis Armstrong by Jos Willems from 2006 is the quintessential printed source for discographic information on Louis Armstrong.
Satchmo by Gary Giddins (1988, Anchor Books), served as the source for most of the Armstrong portraits that bring beauty to the endless type. It cannot be recommended highly enough; gw'on, buy a copy and give Mr. Giddins his due! You should also seek the video of the same name, a sensational and indispensable documentary.
Another most helpful resource has been Louis by Max Jones and John Chilton (1971, DaCapo), which covers Armstrong's story in great detail.
Louis Armstrong: An Extravagant Life by Laurence Bergreen in 1997 is by far, the most interesting and comprehensive biography yet. Bergreen has painted his portrait of Louis with strikingly vibrant colors and daring brushstrokes that, rather than dab at his life story with muted respect, creates an astonishingly well-rounded picture of a vital figure of our century, one who never shunned or sought to hide his own history. Every follower of Armstrong has by now devoured this priceless volume.
All the CD covers incorporated in this website are the property of their respective record companies. Generally, if they are included, they can be considered well worth accumulating for your own collection. There are a vast number of released collections presenting various permutations of Armstrong's recordings in widely varying levels of quality based on the physical sources and restoration/mastering techniques. You would be well-advised to do a web search for buyer reviews and comments before purchasing an unfamiliar collection.
All book covers are the property of their respective publishers.