Background: 1962 - 2005
My parents got married in St. Louis in 1962 and I came along around a year later. After living in Dallas and Wichita for a time, we moved to Lake Charles, LA in 1970 when my father took a position as an electrical engineering professor at McNeese State University. Following some time in a rental home on 422 West Lagrange St., my parents built a house in the Peyton Place subdivision just to the Southeast of the city limit off Highway 14. It was a nice 1,800 sq. ft. three-bedroom house on a full acre of land with a swimming pool and a concrete tennis / basketball court.
The subdivision was named after the owner of the farmland upon which it was built and I'm not certain they were completely aware of the association with a similarly named series of books and movies dealing with the social and sexual dysfunction of postwar suburban America. Unfortunately for me, we were the first people in this young neighborhood to have a swimming pool and in the intense heat of that first summer I gained alot of neighborhood "friends" who were interested in my friendship primarily for my natatorial possession. Having interests that were more cerebral than athletic or gustatory, the abundant opportunities for and interest in outdoor activities were lost on me. Isolated from the city by a busy two-lane highway with no shoulder, there was no way to venture outside the neighborhood until I became old enough to drive. Also, as a multi-racial half-Asian child growing up in schools that were technically integrated but still intensely polarized on black / white lines, I did not quite fit in with either group and have a "people" to call my own. These factors, along with a hereditary disposition toward stubbornness, led me to the early development of a distrust of people and a penchant for self-sufficiency that has been a mixed-blessing throughout my adult life. I never entertained the notion of settling in Louisiana and upon graduation from high school in 1981, I left for school in Texas and only returned to Lake Charles for sporadic holiday visits thereafter.
Nevertheless, it was a generally safe and friendly neighborhood to grow up in. While most people in the neighborhood (then and now) left their lots largely bare to make lawn care easier, my father ringed the lot with young pine saplings and planted numerous hardwood and fruit trees - a choice that would come back to haunt my parents later.
As the years passed, my father became increasingly involved in electrical contracting in addition to his duties as an Associate Professor of Engineering. The extensive amount of attention needed to maintain the house received decreasing priority as his workdays became longer and longer.
This cycle culminated in 1994 with my father's catastrophic hemorrhagic stroke, probably caused by untreated high blood pressure and a family history of stroke. My father was initially not expected to live and ended up staying in the hospital for six months. He had handled all the physical maintenance of the house as well as all the financial affairs and the chaos of his life was reflected in the disorganization of all associated paperwork. This left my mother quite unprepared to deal with the maintenance of the home as well as overseeing his care at the hospital. Shirking my familial responsibilities, I continued my faltering acting career in New York City as my mother undertook the leviathan task of caring at home for a stroke victim. Surprisingly, mom managed to hold it together for 11 years, although the decline of the house and the disorder of it's contents steadily progressed throughout that time.
In 1975, my parents bought 70 acres of land in Salem, MO from my grandparents as a way of honorably supporting them in their old age. In the summer of 1976, my father and I built a small one-room cabin on that land, next-door to the crumbling remains of the two-room shack where my mother had grown up. Their one-room cabin became a vacation home when my parents would visit once or twice a year. In 2003, she contracted with a nephew to add an additional bedroom on the back. This investment turned out to be surprisingly prescient.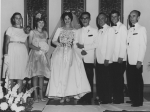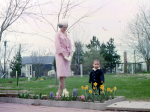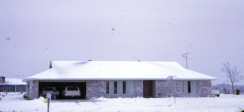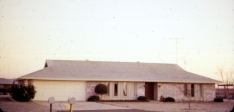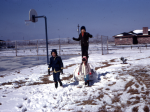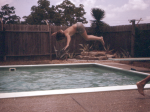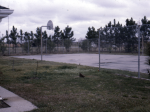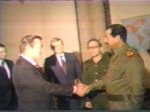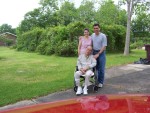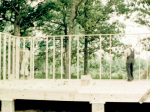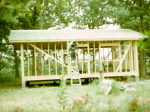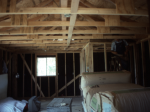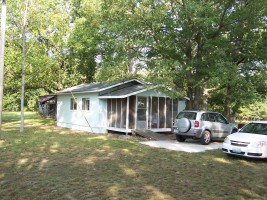 Next: September 21, 2005 - October 1, 2005: The Evacuation and the Storm