Igor Youskevitch (1912-1994)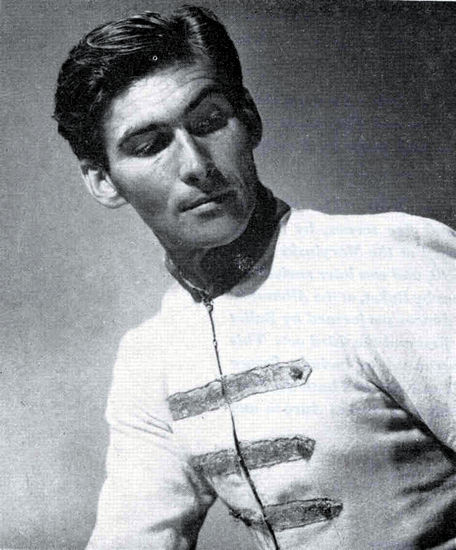 It is unusual for a teenager to have three heroes, and later, as an adult, have the opportunity to work with them. My first hero was Frederic Franklin. He was the first male dancer I saw in performance and I knew I wanted to be like him. (In Volume 11 issue 1, I wrote about him.) My second hero was Igor Youskevitch. When I was a teacher with the New York International Ballet Competition in 1990, Youskevitch was the artistic director. The third hero was André Eglevsky, with whom I did two shows, The Bohemian Girl and The Lost Waltz in 1951. I will write about Eglevesky in the next Newsletter. Every time I was in the presence of any of these dancers I was awestruck.
Igor Youskevitch, one of the greatest ballet dancers of the 20th century, starred in American Ballet Theatre and the Ballet Russe de Monte Carlo and was a master of classical style.
Youskevitch was the son of a judge in a small Ukrainian community near Kiev. After escaping the Bolshevik Revolution in 1920 his family settled in Belgrade, Yugoslavia. He graduated from the Russian-Serbian high school in 1930, and attended Belgrade Royal University for one year. Youskevitch was interested in many athletic events. He started dancing at a very late age, but because of his strength and agility he was chosen by ballerina Xenia Grunt to be her partner. After a year of intensive training with Grunt he made his debut with her in Paris in 1932. Youskevich knew then that dance would be his life's work. He remained in Paris and continued his studies with Olga Preobrajenska for the next two years.
In 1934 Youskevitch joined Bronislava Nijinska's Les Ballets de Paris, and in 1935 he became a member of Leon Woicikowsky's ballet company (Leon was the father of my dear friend Sonia Wojcikowska). Colonel de Basil sponsored Woicikowsky's tour of Australia starring Youskevitch and André Eglevsky in 1937. While with the Woicikowsky's Ballet Youskevitch met Anna Scarpova, a dancer with the company, and they were married in 1938.
That same year, Youskevitch and Scarpova became members of the Ballet Russe de Monte Carlo, he as premier danseur -- where he remained until he volunteered to served in the U.S. Navy in 1944. At that time he also became an American citizen. After two years in the service Youskevitch returned to civilian life overweight and out of condition. At the urging of his wife he returned to ballet class at the advanced age of 34. But his greatest years were still ahead of him. In 1946 he joined Leonide Massine's Ballet Russe Highlights, and that fall he became a premier danseur of Ballet Theatre (now known as American Ballet Theatre). Youskevitch remained with Ballet Theatre until 1955. While with the company he and Alicia Alonso (the great Cuban-born ballerina) created roles in George Balanchine's Theme and Variations in 1947. As a team they became world renowned, and in 1948 he was guest artist with Alonso's Cuban Ballet. Youskevitch created a role in Antony Tudor's Shadow of the Wind in 1948 and he danced in Gene Kelly's movie Invitation to the Dance in 1952.
In 1955 Youskevitch returned with Alonso to star for Ballet Russe de Monte Carlo. In 1960 he rejoined Ballet Theatre as guest artist on their first visit to the Soviet Union.
Youskevitch retired from the stage in 1962, but never from dance. With his wife they opened a ballet school in New York City and formed a small ballet company, Youth Ballet Romantique, featuring their daughter Maria. He also was ballet master and guest teacher with many schools around the country. From 1971 to 1982 Youskevitch was on the faculty of the University of Texas in Austin. With Ilona Copen he founded the New York International Ballet Competition in 1985, and he remained its artistic director until his death.
Youskevitch won the Dance Magazine Award in 1958, the Capezio Dance Award in 1991, and the Premio del Gran Teatro de La Habana, a Cuban award, in 1993.
Sonia Wojcikowska once showed me snapshots of Youskevitch when he was in his early twenties on the Australian tour. I had never seen a movie star more handsome than he was.
(First published March 1999)