Patricia Wilde (b. 1928)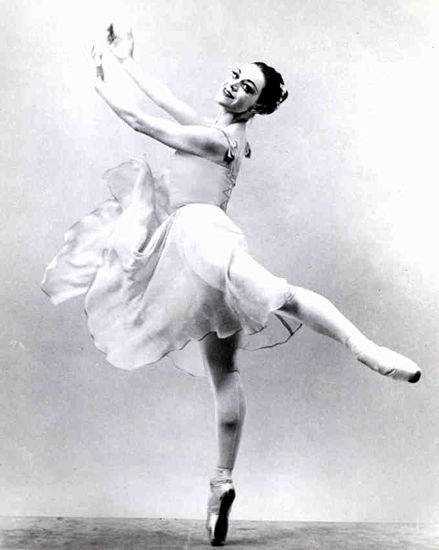 Patricia Lorrain-Ann White followed in her sister Nora's footsteps to become a dancer. She was born in Ottawa, Canada, where she and Nora received their early training from Gwendolyn Osborne. At the age of 13, Patricia came to New York and studied with Dorothy Littlefield at the School of American Ballet.
A year or so after her arrival she appeared with the American Concert Ballet, and then joined the Marquis de Cuevas's Ballet International. She accompanied George Balanchine and a small group of dancers to Mexico City in the summer of 1945. They danced with the opera company at the Palaciodes Belles Artes and gave a few all-ballet performances, dancing Les Sylphides, Apollo and Constantia. Upon her return to New York City Patricia White joined the Ballet Russe de Monte Carlo. Because her sister was already a member of the company she changed her name from White to Wilde.
On opening night she danced as a featured performer in three ballets: Danses Concertantes, Concerto Barocco, and Le Beau Danube. During the next four years she danced in just about every ballet in the Ballet Russe repertoire.
In 1949 Wilde decided to go abroad to study. Roland Petit persuaded her to join his company for its Paris season. She was reunited with Balanchine while performing with the English Metropolitan Ballet. Balanchine lured her back to America to join his New York City Ballet just before their first foreign tour to London and other European cities.
Patricia Wilde remained with the New York City Ballet for many years. She once said, "Those were the years in which Balanchine's company hit its prime. Working from 1950 to 1965 was a beautiful time to be working with Mr. B. You had the feeling that what you were doing there was important; what was going on was marvelous."
Balanchine created many roles for Wilde, including the Highland Girl in Scotch Symphony, the Pas de Trois in Swan Lake, and Glinka Pas de Trois, Square Dance, Waltz-Scherzo, Native Dancers, and Raymonda Variations.
Wilde was an amazingly quick study, and a person who would tackle any job with good-humored audacity. She worked her way through the repertory, leaving her personal mark on each part.
Dance critic Toby Tobias wrote, "Her forte was allegro. She was a terre-à-terre dancer, the girl with the gorgeous jump. She has the fastest feet on the City Center Stage."
It was clarity, that beautiful sharpness in Wilde's dancing that gave it its focus. She had projection and showmanship. She has said that her idea of a good dancer is one who has the ability to hold the audience.
In 1965 Wilde left the New York City Ballet. Balanchine, as always, lost interest in his mature dancers as new young talent emerged.
Patricia Wilde was not unemployed for long. She was invited by Rebecca Harkness to become Director of the new Harkness Ballet School in 1965. Unfortunately Harkness's and Wilde's personalities clashed and Wilde left to look for a more satisfying position. She taught for awhile in Geneva, then in 1969 she became company teacher for American Ballet Theatre. She remained with ABT until 1982, when she left to become the Director of the Pittsburgh Ballet. She is still associated with the company as an advisor to Terry Orr, who is now the Director.
(First published July 1998)