Maria Tallchief (1925 - 2013)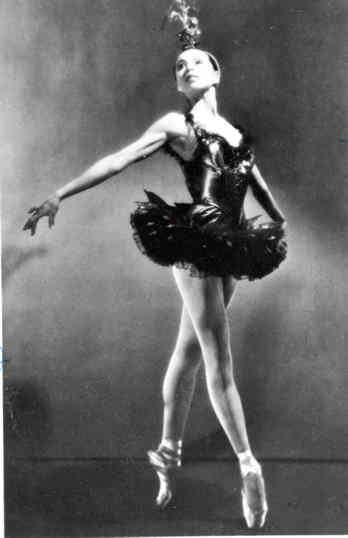 When I was a teenager, my older brother would bring his college roommate, Tommy, home for my mother's great Southern cooking almost every weekend. Tommy knew I was interested in the arts, and he would tell me about his sister, Maria Tallchief, who danced with the Ballet Russe de Monte Carlo. I was very excited when my aunt took me to see the ballet, and thrilled to see Tommy's sister dance. She got a lot of publicity because she was a local girl, born in Fairfax, Oklahoma.
Originally named Elizabeth Marie Tall Chief, she was the older sister to Marjorie Tall Chief and half sister to Tommy. Her father was a full blooded Native American of the Osage Tribe, and her mother was Scots-Irish. Her father became very wealthy when oil was discovered on his extensive lands.
When Betty Marie was eight years old, the family moved to California. Betty Marie was studying piano and her ambitious mother wanted her to be a concert pianist. Both girls had started their dance training in Oklahoma with a teacher whom Tall Chief described as: "... a wretched instructor who never taught the basics, and it's a miracle I wasn't permanently harmed." Mrs. Tall Chief wanted her girls to continue their dance classes in California. Their first major ballet teacher was Ernest Belcher, father of Marge Champion. Although Betty Marie was also a very good piano student, her dancing was her major interest. While both girls were studying with Belcher, their mother heard of a Russian teacher who had opened a school in Beverly Hills. Mrs. Tall Chief was impressed that the Russian teacher was the sister of the great dancer Vaslav Nijinsky. Bronislava Nijinska influenced Betty's ultimate decision to become a dancer rather than a pianist.
Although one of Betty's first professional jobs was as a dancer in the movie Presenting Lily Mars, which starred Judy Garland, dancing in the movies was not what she wanted to do.
When Ballet Russe de Monte Carlo was appearing in Los Angeles the stars would often take class with Bronislava Nijinska. Some of them also taught classes there. Mia Slavenska and Tatiana Riabouchinska taught Betty Marie and Slavenska arranged an audition for her with Serge Denham, the company director. Although he liked Betty Marie, Denham wanted her to finish high school before he would hire her.
To ease the confusion in school, the Tall Chief family changed their name to one word: Tallchief. Tatiana Riabouchinska often coached Betty Marie in class, and it was Tatiana who talked Betty's parents into letting their daughter come to New York with her and her husband, David Lichine.
A dancer had just left the company and this lucky timing got Betty Marie a contract with the Ballet Russe de Monte Carlo. While she was learning a role in Rodeo, choreographer Agnes de Mille suggested that she call herself Maria, since there were already several Elizabeths and Maries in the Ballet Russe.
While Tallchief was dancing with Ballet Russe, Serge Denham allowed the company to dance in the musical Song of Norway in 1944. The choreographer George Balanchine asked her to understudy the star, Alexandra Danilova. Tallchief was flattered to be singled out by this great choreographer and substituted for Danilova a number of times. When Denham finally withdrew his company from Song of Norway, Tallchief could have remained with the musical but chose to continue with Ballet Russe. Balanchine was invited to become the resident choreographer for the season. Tallchief appeared in leading roles in his ballets and married him in 1947.
When Balanchine quit the Ballet Russe de Monte Carlo to create Ballet Society (now the New York City Ballet), Tallchief was still under contract to Denham and had to finish the season before she could join her husband and his new company. She went to Paris with Balanchine in 1947 and appeared in his Serenade, Apollon Musagète, and Baiser de la Fée. With the Paris Opera, she also starred in the premiere of his Palais de Cristal, now known as Symphony in C.
Tallchief created roles in Balanchine's Danses Concertantes (1944), Night Shadow (1946), Symphonie Concertante (1947), Orpheus, Firebird, and Bourrée Fantasque (1948), Caracole and Scotch Symphony (1956), Pas de Dix (1955), Allegro Brillante (1956), and Gounod Symphony (1958). She also starred in Balanchine's versions of Sylvia Pas de Deux (1950), Swan Lake (1951), and Nutcracker (1954).
The Balanchine-Tallchief marriage ended in 1952, but they continued to work together until 1965. Tallchief took time off to perform for other companies. She returned temporarily to Ballet Russe de Monte Carlo and for a short while was a ballerina with American Ballet Theatre. After her career with New York City Ballet ended, Tallchief became director of the Chicago Ballet in 1981. She has won several awards including the Dance Magazine Award (1960), Capezio Dance Award (1965), and in 1998, the Kennedy Center honors.
My personal relationship with Tallchief began in 1951 when choreographer Theodor Adolphus took me out of the corps de ballet to partner Tallchief in a pas de quatre. I was very nervous when asked to support her in a pirouette. She felt my nervousness and said: "You know I don't bite." "Miss Tallchief," I said, "I'm not afraid of you biting me, I am afraid I will knock you off pointe." She smiled and answered, "you're not strong enough to knock me off pointe." Tallchief took me aside at every rehearsal and practiced with me. She will always hold a special place in my memory.
Tallchief passed away on April 11, 2013 in Chicago.
(First published October 1998; rev. 4/19/2013)