Vivian Smith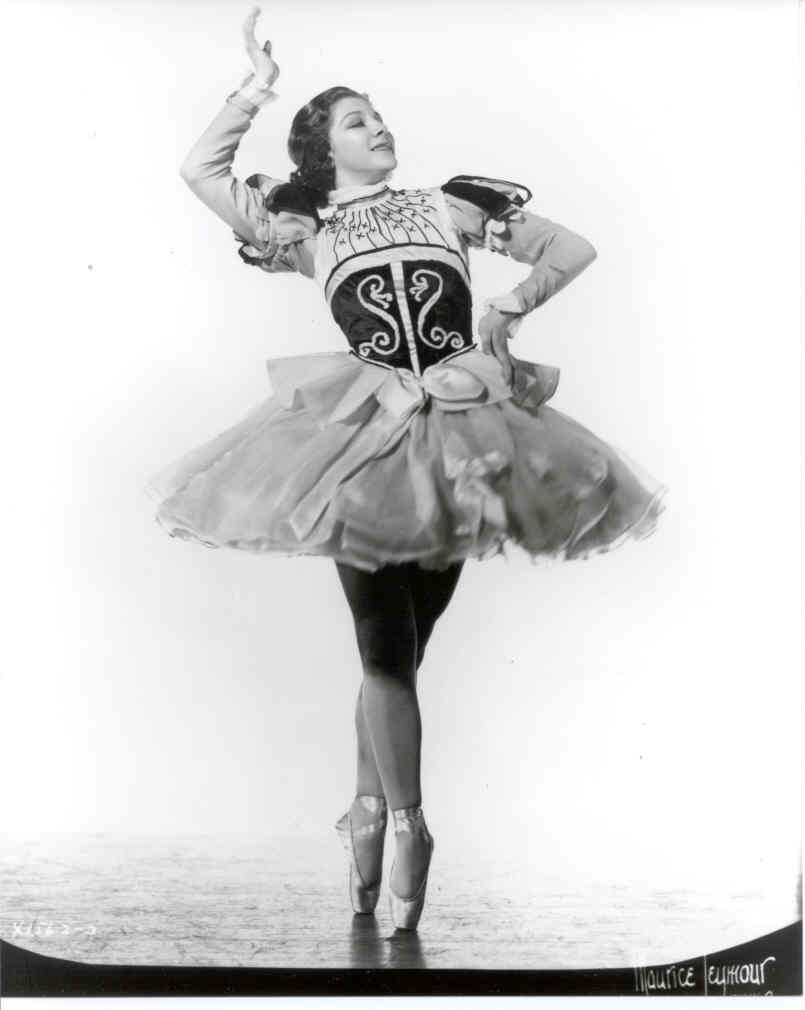 Vivian Smith Shiers was one of the first American dancers to join Rene Blum and Col. De Basil's Ballet Russe de Monte Carlo. She had the honor of working with the greatest stars of the golden age of ballet.
Vivian was raised in Lakewood, Ohio, far away from New York City that she would later call home. When Vivian was seven she would slip away from the family's bakery to peer through the door of Lydia Bender's Dance Studio. Ms Bender took notice of the curious little girl peering in at her class. Impressed with the child, Ms. Bender offered Mrs. Smith a full scholarship for her daughter.
Following her studies with Ms Bender, Vivian attended The Imperial Russian School of Dance, headed by Nicolai Semenoff. After his death in 1932, Serge Nadejdin took over the school as the new director.
When the Ballet Russe de Monte Carlo was performing in Cleveland on their first America tour, Nadejdin invited Col. De Basil to watch his students perform in a classroom demonstration. The Col. singled Vivian out and offered her a contract to join his company. After much discussion, Vivian and her parents decided that she should finish her junior year of high school, and in the spring of 1935, she embarked on a whirlwind tour of North America and Europe.
It was the custom of the time that she must have a Russian name, so Vivian Smith became Nina Radova.
In 1936, while the company was dancing "Le Pavillon d'Armide" in Germany, Vivian tells the story that when David Lichine, who was Jewish, was dancing, the lights in the theater were shut off. Lichine voluntarily did not dance so the company could still perform his ballet.
In 1937 Vivian returned to Lakewood to undergo an appendectomy. Before she could rejoin the company Col. de Basil and Rene Blum parted ways, thus dividing into two factions. Following the split Vivian took a job at Radio City Music Hall, maybe there are those of you who do not know that The Music Hall had a ballet company as well as the Rockettes.
Something Vivian did not plan on was meeting Paul Shiers, who was a member of the Men's Glee Club at Radio City. They fell madly in love and married. They celebrated their 60th anniversary in the spring of 2000.
Marriage caused Vivian to give up her thoughts of the Russian Ballet. She and Paul continued at the Music Hall until 1943. The couple didn't leave theater after that. They auditioned for Rodgers and Hammerstein's Away We Go, later renamed Oklahoma! Paul understudied the role of Will Parker and performed many times opposite Celeste Holme. Vivian was hired as a dancer, and Agnes de Mille made her assistant choreographer.
After the birth of the first daughter, Vivian worked in summer stock, and then in 1945 the revival of Show Boat, as dance director. She also danced in the Broadway show Top Banana and was the assistant choreographer to Ron Fletcher. Herbert Ross hired her to be his assistant for the movie Carmen Jones.
While raising their second daughter Vivian Smith Shiers worked on other theatrical and television production as a dancer and choreographer. She worked soap operas and modeled for print work. Dance being an ongoing passion she joined Dancers Over 40. Vivian, Paul and their daughters attended the reunion of the Ballet Russe Dancers in New Orleans over the summer of 2000.
(Compiled with information from Amy Trochanowski)