Jules Perrot (1810-1892)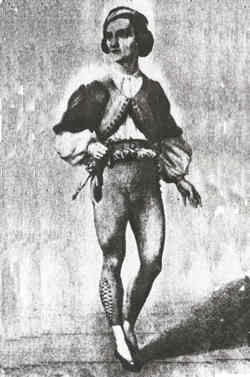 I often talk about personalities in ballet that somehow achieve power. They often, for whatever reason, keep good dancers and choreographers out of the mainstream. The sad part of this is that it has always been that way. Some of the best talent is lost because of personal vendettas.
Jules Perrot was a famous dancer and choreographer, and was a student of August Vestris and Salatore Vigano. He began his career as a circus pantomimist and clown, and danced in provincial French theatres and later moved to Paris. His debut at the Opera was in 1830 and his first performance created a sensation. The critics called him "the greatest dancer of our time."
Perrot shared his first victories with Marie Taglioni. His success was growing faster than that of his partner. After a few season Marie refused to dance with him. By 1885 he was no longer welcomed at the Opera. (Doesn't this sound familiar? )
He made guest appearances throughout Western Europe. His ballets also became famous. While he was in Naples he met and married Carlotta Grisi. When Grisi joined the Paris Opera, Perrot came along and was promised one ballet to stage. He began to rehearse his wife before waiting for permission from the official. Bournonville, Perrot's classmate wrote, "I personally witnessed Perrot coach Carlotta Grisi in fragments from the principal part of some ballet with the idea of using it in Giselle." Coralli made sure that Perrot was not hired by the Opera. But Coralli was more than happy to let Perrot work on his new ballet, Giselle. A love affair between Grisi and Gautier made Perrot's presence at the Opera impossible. After the premiere of Giselle, Coralli received unprecedentrd acclain. Coralli declared himself sole choreographer of the ballet.
In 1848, Perrot, in search of steady employment, went to St. Petersburg, and was accepted into the Imperial Theatre as a dancer, choreographer and artistic leader. By 1859 Perrot, with his democratic inclinations, began to be a burden to the directors of the Imperial Theatre and had to leave. They said because he become homesick. When he returned to Paris after 11 years he couldn't adjust to the changes that had taken place in the Opera. His friend Degas used Perrot as his model for the ballet master in many of his paintings of ballets and dancers. Like his rival Marie Taglioni, Perrot died destitute. Bournonville speaks about the painful life of Perrot in his declining years.
The following was published in Ballet Beat magazine
The oldest ballet still being performed is La Fille mal Gardée (1789), choreographed by Jean Dauberval. It was the first ballet to portray ordinary people, although the original choreography is not what we see today. While August Bournonville's La Sylphide (1836) is still in the repertory of many ballet companies, the most famous ballet seen almost every season is Giselle, originally choreographed in 1841.
Intrigue surrounded the ballet Giselle because, until recently, one of the choreographers was never given credit for his work. All the solos performed by Carlotta Grisi, the original Giselle, were set for her by Jules Perrot, and it is Perrot that I want us to know about.
Jules Perrot (1810-1882), a French dancer, was fired from the Paris Opera when he became more popular than his partner, Marie Taglioni. Marie's political power allowed her free rein at the Opera and she got what she wanted. Jules went to Naples where he met and fell in love with Carlotta Grisi and she became his common-law wife. Carlotta's brilliance as a dancer ranked her alongside of Taglioni and Elssler. She was invited to dance with the Paris Opera, but would not accept the contract unless they reinstated Perrot. Consequently, the Opera promised him that he could choreograph a couple of ballets. There wasn't immediate work for him so he occupied his time with Carlotta, creating variations that would later be in Giselle.
Giselle was such a success that it catapulted Carlotta to stardom. Jean Coralli, who was the ballet master at the Opera, got full credit for Giselle, and to make sure that no one knew of Perrot's contribution, Coralli had him dismissed again from the Opera. Perrot left his common-law wife to enjoy her success. He went to London and later danced Albrecht with Grisi at the King's Theatre. Being a gifted dancer and choreographer he was in demand throughout the world.
Perrot is most famous today because, at the suggestion of Benjamin Lumley, he got four of the greatest ballerinas of the romantic period to dance together in the ballet Pas de Quartre (1845). Perrot persuaded Marie Taglioni, Carlotta Grisi, Lucile Grahn and Fanny Cerrito to perform in this famous ballet. There were only four performances with the original cast. It might have been called Pas de Cinq if Fanny Elssler had not been on tour. There was a problem with the order in which they were to appear, the last solo being the best spot. Benjamin Lumley solved the problem by suggesting that they dance according to their age, with the youngest first. Suddenly everyone wanted to be first, but it was decided that Grahn would lead, followed by Grisi then Cerrito and, finally, Taglioni. To make sure each ballerina looked their best, Perrot choreographed each variation around their special skills; so if they could turn then the variation had turns (or jumps or a beautiful line if they were the performer's forte). The ballet was simply a showcase for these famous dancers. Without the stars we would have never heard of it.
Anton Dolin, influenced by the famous lithograph by A.E. Chalon, revised Pas de Quatre in 1941 for Ballet Theatre with Nana Gollner, Nina Stroganova, Alicia Alonso and Katharine Sergava. In Dolin's ballet he brought out the humor that must have surrounded these great dancers competing for the audience's approval. In his version it wasn't just four variations, but a study of the personalities that Dolin had researched.
Perrot went to St. Petersburg in 1848 in search of steady employment, and was accepted into the Maryinsky Ballet as a dancer, choreographer and artistic director. Perrot, who was a strong believer in democracy, felt the restrictions of the Tzar's rule a burden, and returned to Paris in 1859. After eleven years in exile management at the Opera had changed a number of times and he was not welcomed. They felt his style was outdated.and adjusting.was difficult for him. He retired with his Russian wife, Capitoline Samovskaya, and died in poverty.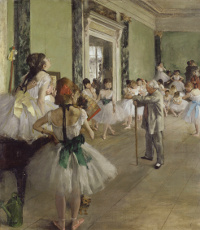 Many of us are familiar with Perrot's image since Edgar Degas used Jules Perrot as his model for the ballet teacher in his paintings.
Marie Taglioni ruled over the Paris Opera after her extraordinary success in La Sylphide, choreographed by her father, Filippo Taglioni. Marie made dancing on pointe so popular that it became a prerequisite for every female ballet dancer. With her success she became very temperamental, making demands on management that couldn't be satisfied.
Dr. Véron, director of the Paris Opera, heard of a younger and fiery dancer taking London by storm. When he saw her, Dr. Véron convinced Fanny Elssler to join the Paris Opera for the express purpose of giving Taglioni competition. Elssler's presence in the company soon caused Marie and her father to leave. The Taglionis found a new home at the Maryinsky in St. Petersburg and they had a new world to conquer.
(First published October 1992)