Augusta Maywood (1825 - 1876)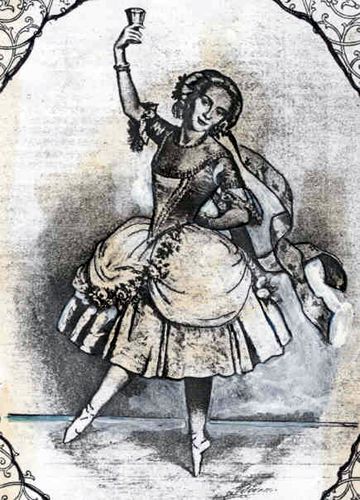 Before the American Revolutionary War, many European ballet companies would brave the stormy Atlantic to make their fortune in the New World. However, it would not be until the middle of the 19th century that America would create a ballerina who would return the favor and achieve stardom in Europe.
In 1791, Alexander Placcide and his wife, performed the first ballet in the new land in Charleston, South Carolina. Later they performed in New York City. Included in their first performance was John Durang, a hornpipe dancer. He was George Washington's favorite entertainer and American's first professional dancer.
In 1839, Paul Taglioni, Marie Taglioni's brother, danced La Sylphide with his wife, Amelie, at the Park Theatre In New York City. That same year the Petipa family, including the future renowned choreographer Marius Petipa, also performed in the States.
In 1835, Paul H. Hazard and his wife, members of the Paris Opera came to America. They settled in Philadelphia and opened the first ballet School. The Hazard school produced three American dancers who became famous: George Washington Smith, Mary Ann Lee, and Augusta Maywood.
Smith a young clog dancer joined Fanny Elssler's company and eventually became her partner. James Sylvian, taught both Smith and Mary Ann Lee. Later Sylvian returned to Paris leaving ballet to stagnate.
Mary Ann came from a family of circus performers. American audience called her "Our Mary Ann." In 1844 she went to Paris to study with Jules Perrot and Jean Coralli. She learned Giselle and Jolie Fill de Gand from Carllota Grisi and La Fille du Damube from Marie Taglioni.
In 1845, Mary Ann Lee returned to the states and formed a small troupe in partnership with George Washington Smith. They were the first Americans to dance Giselle in America. They toured the states for two years. Mary Ann retired from the stage but Smith continued to teach, choreograph and dance with Lola Montez, the fiery Irish dancer and adventurous, famous for many romances. He also danced with the Ronzani Ballet. During the company's American tour Smith performed with a young Enrico Cecchetti, who went on to become a famous teacher and ballet master for Sergei Diaghilev.
Augusta Maywood was born in 1825 to Henry August Williams and his wife an English actress. Both performed in America. When they divorced, Mrs. Williams married Robert Maywood, manager of Chestnut Street Theatre in Philadelphia. Her two daughters took the name Maywood. The oldest daughter, Elizabeth became an actress. The younger daughter, Augusta, began to study dance with Paul Hazard at the age of ten. She was so talented with into years she was ready to make her debut. Augusta appeared with Mary Ann Lee in an adaptation of The Maid of Cashmere, which starred La Petite Augusta, a popular German ballerina.
Mr. and Mrs. Maywood were the quintessential ballet parents. They took their daughter to New York where she appeared with much success as Zelica in the Mountain Sylph (An American version of La Sylphide). In 1838, the Maywood went to Paris so Augusta could study with Joseph Maziler and Jean Coralli. She had a beautifully formed body and a jump that critics compared to a wild doe.
In 1839, at the age of 14, Augusta made her debut at the Paris Opera. She danced a pas de deuxwith Charles Mabille in Le Diable Boiteux. She received excellent reviews. Her career was assured until she eloped with her partner Mabille. They planed to get married in London but Augusta, being a minor without a passport, had to return to her mother's supervision.
Finally Mrs. Maywood succumbed to her daughter's pleading and Augusta and Mabille married. They left the Paris Opera to dance in Marseilles where Augusta had a child. When she discovered she was pregnant again by another man, she abandoned her husband and daughter. Although she and her husband separated legally, they remained good friends. They signed a lucrative joint contract and continued performing together in Vienna, with much success.
When Augusta had a third child, fathered by yet another man, she left Vienna and settled in Milan. For twelve years she was the ballerina of the La Scala Opera. The program listed her as Prima Ballerina Assoluta, a title very few dancers achieve. In Europe the critics compared her to the great romantic ballerinas of the nineteenth century. Fanny Elssler helped Augusta's career making sure she appeared in the leading roles of many of Elssler's ballets.
The news of Augusta's life style made her unwelcome in the States. This snub didn't bother her. She was tired of others dictating to her. Also, tired of depending upon unreliable managers of local theaters, she formed her own company, complete with costumes, sets and corp de ballet. She was the first dancer to take on these responsibilities.
In 1858 her husband Charles Mabille died leaving her free to marry her lover, Carlo Gargini. She retired and opened a school in Vienna with her new husband. When she had another baby, Gargini claimed it was not his. Unfortunately the baby died a few hours after its birth. Gargini left her and opened his own dancing school.
Augusta continued to teach and choreograph ballets. At the age of 51 she contacted smallpox and died. Her death went unnoticed by her beloved fans. She was the first American dancer to achieve to rank of Prima Ballerina in Europe.
(First published September 1993)