John Kriza (1919-1975)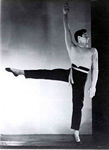 Johnny Kriza was one of Ballet Theatre's (now American Ballet Theatre) most popular principals. He was born in Berwyn, Ill. and went to Chicago where he studied with Bentley Stone and Walter Camryn. He danced with Page-Stone Ballet Company. In New York City he studied with Anton Dolin and Pierre Vladimirov before joining Ballet Theatre in 1940. Kriza created roles in Jerome Robbin's Fancy Free in 1944, and Interplay in 1945. Also Michael Kidd's On Stage in 1945, Agnes de Mille's Fall River Legend and Herbert Ross's Caprichos. I am sure he will be remembered for his interpretation of Billy in Eugene Loring's Billy the Kid. He retired from dancing with Ballet Theatre in 1966 and became assistant to the director. John Kriza died in a freak accident while swimming in Florida.
(First published May 1999)
Humankind is the only primate that has a fleshy backside, because a fleshy backside is a cushion for humankind to land on when they try to pirouette. Other primates are too smart to try.