Louis Johnson (b. 1931)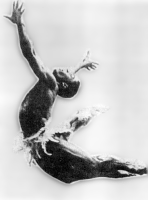 I have become aware that there are no African Americans among my website biographies. The reason for this is my website is a ballet site, while Broadway has had "color blind" casting for some time, ballet companies were the last of the theatrical arts to include African Americans (it is not a lot better now). There were a few black dancers to penetrate the all-white companies but Arthur Mitchell had to start the Dance Theater of Harlem so black ballet dancers would have a place to dance.
In 1940 Ballet Theatre (now American Ballet Theatre) had their premiere opening season at the Center Theater (across the street from Radio City Music Hall). On the program was a black group dancing in Agnes de Mille's "Black Ritual."
That was the last time black dancers danced with Ballet Theatre until 1965 when Agnes de Mille choreographed "The Four Marys" for ABT with: Carmen de Lavallade, Glory Van Scott, Judith Jamison, and Cleo Quitman and Paul Sutherland.
Louis Johnson was one of the few African Americans to squeeze through the barricade, dancing in Jerome Robbins' "Ballade" with the New York City Ballet.
Louis Johnson was born in Statesville, North Carolina and grew up in Washington D.C. The Johnson family lived 2 blocks from the YMCA, and Louis took advantage of all the activities the "Y" had to offer. He was a great athlete, and became a champion wrestler and noted acrobat. When the YMCA had to close for repairs, the YWCA offered them space. The ballet teacher at the "YW" noticed Louis and gave him a scholarship at the Doris Jones-Clara Haywood School of Dance.
With their encouragement, in 1950 Louis moved to New York City at the age of 19 to accept a scholarship at the School of American Ballet (SAB).
Jerome Robbins used Louis Johnson in the premiere of "Ballade." Robbins also used Louis to create the role in "Afternoon of a Faun," but because Louis was black he was not allowed to dance the role. In 1953 George Balanchine didn't think New York City Ballet was ready for a racially mixed pas de deux.
I first met Louis when he, Arthur Mitchell and my ex roommate, Bob Curtis appeared in Gertrude Stein's "Four Saint in Three Acts," choreographed by William Dollar.
In 1954 Louis and I had ballets sponsored by the New York Ballet Club. I loved his work, but I was jealous of his talent as a choreographer. Louis had great success, but with all the good reviews he still could not break this color barrier in ballet. Like many other dancers, white and black, who could not make a ballet company, he went to Broadway. Louis danced in "My Darlin' Aida," "House of Flowers," and "Hallelujah Baby." he was also in the stage and screen versions of "Damn Yankees."
At the same time, Louis Johnson was making a name for himself as a choreographer. His "Lament" and "Kindergarten" were beautiful ballets. Louis' choreographic style was a combination of ballet technique, social dancing, Katherine Dunham-inspired modern and acrobatics. In 1970 Louis was nominated for a Tony Award for his choreography of "Purlie"; the same year he choreographed the film "Cotton Comes to Harlem", and in 1978, "The Wiz."
In 1972 Louis created "Forces of Rhythm" for Dance Theatre of Harlem and for the Alvin Ailey Company he choreographed "Fontessa and Friends." Johnson staged Scott Joplin's "Treemonisha" for the Houston Grand Opera in 1975. He also choreographed "Aida" with Leontyne Price in 1985 and "LaGiaconda" with Allegra Kent for the Metropolitan Opera.
As an active arts educator and teacher, Louis Johnson has conducted black arts symposiums at Yale, Howard, Virginia State, Hampton Institute and Morehouse College. In 1986 he was appointed director of the Dance Division of the Henry Street Settlement on the Lower East Side. He has retired, but I know him well enough to know if he were asked, he would be back to working in a heart beat.
(Last updated 8/28/2005)