Marie-Jeanne (1920 - 2008)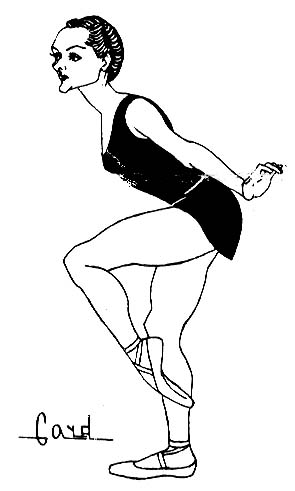 Marie-Jeanne Pelus was born in New York City and called herself "the Latin from Manhattan." She studied ballet at the School of American Ballet and danced with George Balanchine's Ballet Caravan (1937-1940). She created roles in Eugene Loring's Billy the Kid and Lew Christensen's Filling Station, both in 1938. In 1940 she danced with the Ballet Russe de Monte Carlo and the American Ballet, and in 1941 created roles in Balanchine's Concerto Barocco and Ballet Imperial. Marie-Jeanne joined the Original Ballet Russe in 1942 and in 1944 she became a member of Marquis de Cuevas' Ballet International, There she created other roles in William Dollar's Constantia and André Eglevsky's Colloque Sentimental -- both in 1944.
She returned to the Ballet Russe de Monte Carlo in 1947, Ballet Society in 1948, then appeared with the Grand Ballet du Marquis de Cuevas. Ballet Caravan, The American Ballet, and Ballet Society were all forerunners of the New York City Ballet and she appeared briefly with the New York City Ballet before retiring in 1954.
In retirement, Marie-Jeanne occasionally rehearsed young dancers in the roles she created for Balanchine. She passed away from heart failure at a retirement home in Austin, TX on January 3, 2008.
(First published June 1999, updated January 2008)